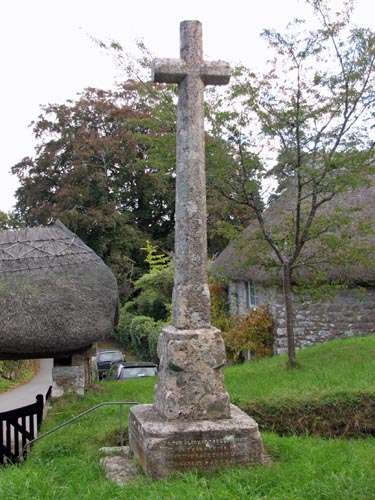 Location: Just inside the main entrance to Throwleigh Churchyard, on the grass beside the path.

O/S Grid Ref: SX/667/907 Longitude/Latitude (Degrees+/-): -3.88809/50.70140

Map location: Click here to view map.

Purpose: The cross serves as the village War Memorial.

Size: The cross has not yet been measured.

Information: This tall, slender and chamfered Latin Cross sits in a square socket stone on top of a ground-level base. The shaft tapers down towards its base and widens out where the chamfer ends and then widens still further where the base has been ornately fashioned. The socket stone is square, with the four top corners being chamfered off. The four faces of the socket stone have each had leaded lettering added to them, with the wording of each face reading as follows:

Western Face: To the Glory of the Undivided - Trinity in Memory of - Those who gave their Lives - In the Great War A.D. 1914 - 1919.

Eastern Face: Pray for the Souls of Those - Who Fell in the Great War - Especially - Hugh Fanshawe Glanville - James Alfred Mortimore.

Northern Face: Eternal Rest Grant to Them - O Lord, and Let Light - Perpetual Shine Upon Them.

Southern Face: Holy Mary Mother of God - Pray for Us Sinners Now - And at the Hour of our Death - Amen.

In addition, the following lettering has been added to the base of the shaft on the southern face to include the Second World War: 1939 - Anthony G. Manisty - William J. Rowse - 1945.

The main entrance to the churchyard is by way of a fine lychgate, with its granite stone on which to rest the coffin. The lychgate is a relatively modern reproduction of its predecessor, which was demolished in the 19th century. There is an oval brass plaque on the wall, under the gate roof, which states that it was erected by parishioners and others, in memory of George Lincoln Gambier Lowe, Rector from 1895 to 1933. On the opposite side of the lychgate is a colourful board showing that the church is dedicated to St Mary the Virgin.
Just outside the churchyard is the old Church House, which is now 'The Barn Studio'. On the corner of the building, a little granite trough has been raised up on blocks and is used to grow a few flowers. A flight of granite steps leads up the outside of the building to the upper floor and there is an old toilet chain hanging outside the front door to ring the doorbell.