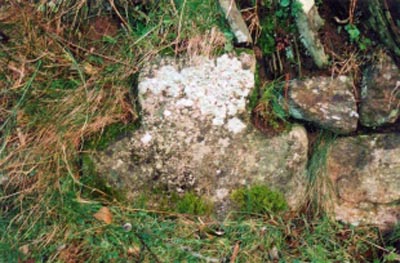 Location: Built into the bottom of a section of wall, half way along the lane to the farm and on the right hand side, between two field gateways.
Please note: The lane in which this cross is situated is on private land.

O/S Grid Ref: SX/550/606 Longitude/Latitude (Degrees+/-): -4.04277/50.42730 (approx.)

Map location: Click here to view map.

Purpose: Waymarker for the monks of Pympton Priory on their journey to Tavistock Abbey, via the parishes of Meavy and Sampford Spiney.

Size: 1 foot 7 inches (0.48 metres) tall. 1 foot 10 inches (0.56 metres) across the arms.

Information: Although an ancient cross, it was not discovered until the 1950s when a part of the hedge collapsed and the cross fell into the lane. It has now been incorporated into the base of the rebuilt wall. William Starkey suggested that this could be the missing Browney Cross, which would originally have been sited about half a mile to the north-west of its current site.
Only the head of the cross remains and it is not possible to determine its full height, as any remaining portion of shaft is set into the ground. Similarly, the depth of the cross is unknown due to it being set back into the wall. However, the head is 11 inches (0.28 metres) wide and the arms measure 10 inches (0.25 metres) from top to bottom.
Truelove Farm was an old and traditional Dartmoor farm which, until the late 1990s, was occupied by five generations of the Dennis family. The last of which were two bachelor brothers, who lived in the ancient farmhouse along with their mother and worked the farm in a very traditional style. The farm was sold in 1998 and the family moved to the nearby village of Shaugh Prior. During the move, the floor covering was taken up and the house was found to have its original 'stone flag' floor underneath and still in a very good condition.
The last days of the farm and its sale were covered by local 'black and white' photographer, Chris Chapman. The photos were put together for an exhibition, which has since been displayed at the Royal Albert Memorial Museum, Exeter, the Plymouth Arts Centre and the British Embassy, Brussels, amongst other places. This will provide a unique and lasting record of the farm and what will probably be its final inhabitants, as the local China Clay firm was the purchaser of the farm.