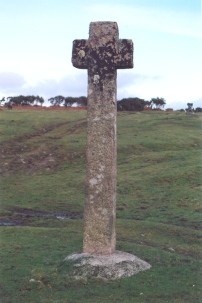 Location: On the western edge of Wigford Down, opposite the entrance to Urgles Farm.

O/S Grid Ref: SX/535/649 Longitude/Latitude (Degrees+/-): -4.06510/50.46550 (approx.)

Map location: Click here to view map.

Purpose: Waymarker on the route regularly used by the monks between Buckland Abbey and Shaugh Prior.

Size: 6 feet 9 inches (2.06 metres) tall. 1 foot 9 inches (0.53 metres) across the arms. The shaft is 8 inches (0.20 metres) deep.

Information: There is no doubt that an ancient cross once stood proudly in this spot. However, William Crossing recorded that, by the turn of the 20th Century, only the original socket stone was still in place. No sign of the original cross could be found.

At some point since William Crossing's visit, the socket stone has been removed to Good-a-Meavy House and is now used to support a relatively modern cross. This was erected by Mr Hill, the owner, as a memorial to his son, who was killed in the Dardanelles during World War I.

In order to compensate for the loss of the original Urgles Cross, another one was made and erected in its place at some time during the first half of the 20th Century. This is a square cross, of a uniform design and, despite its relatively young age, already appears to have had a repair between the head and the shaft. It has been cemented into a new socket stone which is almost flush with, but just shows above, ground level. Although generally known as Urgles Cross, it is sometimes referred to as Good-a-Meavy Cross.