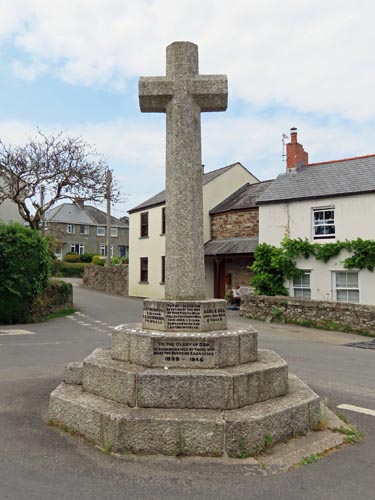 Location: In the middle of the road junction in the centre of the village.

O/S Grid Ref: SX/533/696 Longitude/Latitude (Degrees+/-): -4.07071/50.50835 (approx.)

Map location: Click here to view map.

Purpose: Memorial to all those in the village who lost their lives in both World Wars.

Size: 9 feet 7 inches (2.90 metres) tall. 3 feet 4 inches (1.00 metres) across the arms.

Information: This is a truly enormous cross! It is set up on a pedestal of four steps with an octagonal socket stone on the top. It is sited in the centre of the road junction, as a sort of roundabout. The bottom pedestal is level with the ground and the other three, with the socket stone, raises the bottom of the cross to 4 feet above road. The top of the cross is therefore a full 13 feet 7 inches above the road level.

A local resident informed me that the shaft goes all the way down through the pedestals and into the ground below. This would make the length of the shaft at least 15 feet long and therefore it is probably the largest cross on and around Dartmoor.

The cross is modern and well made. It is chamfered all the way around and in very good condition. It was erected to commemorate both World Wars I and II and details of the memorial can be seen written all the way around the pedestals.

Walkhampton is an historic village, having been in existence since Saxon times. Unusually, the church is not situated in the village but can be found about half a mile away to the North East. This can be reached either by road or by a quiet footpath through the countryside. Next to the church can be found the 'Church House', which was formerly owned by its parishioners. Further details of this and the adjacent cross can be found on the page for the Walkhampton Church House Cross.

Also in the village is Lady Modyford's Primary School. This was started, as a boys' school, in 1719 by Lady Modyford in a private house, when she had only 20 pupils. Over the years, the number of pupils gradually increased and the school was also opened up to the girls of the village. In 1895, the school was rebuilt and enlarged to include the bell tower, which today forms the main entrance to the school.