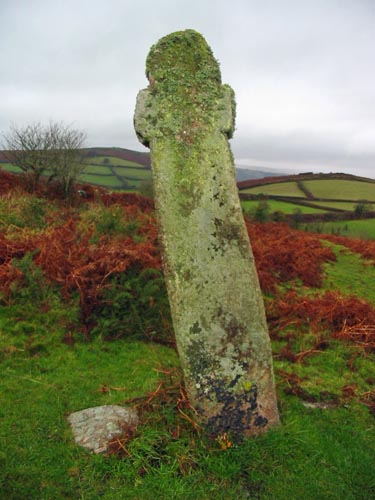 Location: Beside the road, leading from Chagford to Middlecott Farm, near the summit of Week Down.

O/S Grid Ref: SX/71166/86542 Longitude/Latitude (Degrees+/-): -3.83282/50.68154

Map location: Click here to view map.

Purpose: As a waymarker for the track from Moretonhampstead and North Bovey to Chagford.

Size: 6 feet 10 inches (2.08 metres) tall. 1 foot 7 inches (0.48 metres) across the arms.

Information: Although firmly set in the ground, the cross is leaning over at an angle. Each face has a Maltese Cross incised into it. The interesting point is that the one on the eastern face is parallel with the main cross, but the one on the western face is vertical to the ground.

In 1867 the cross was moved back from the road slightly as the bank on which it stood was falling away. In moving the cross, great care was taken to keep the same angle to the ground as applied to its previous position. Around this time, there was also a plan to remove the cross and use it locally as a footbridge. Thankfully this plan never came to fruition.