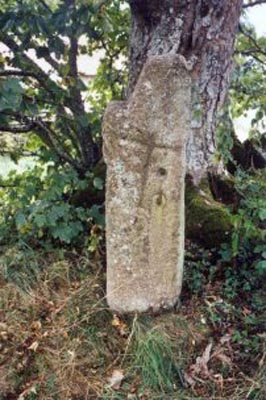 Location: Beneath the tree at the entrance to West Wyke Farm.
Please Note: The cross stands on private land belonging to West Wyke Farm and permission of the owner should be sought before making a visit.

O/S Grid Ref: SX/657/926 Longitude/Latitude (Degrees+/-): -3.90435/50.71809 (approx.)

Map location: Click here to view map.

Purpose: Probable waymarker.

Size: 4 feet 8 inches (1.42 metres) tall. 1 foot 6 inches (0.46 metres) across the shaft and the remains of the arms. The shaft is 15 inches (0.38 metres) wide and tapers from 12 inches (0.31 metres) in depth at the base to 9 inches (0.23 metres) near the top.

Information: This roughly shaped cross is rectangular in section and has suffered a lot of damage over the years. One arm has been completely broken off and the other has been reduced to a stump. The head of the cross tapers to a point at the top. That it has been used as a gatepost is confirmed by the presence of two gate-hanger holes in the front face of the shaft. The lower of the two holes has the remains of an iron gate-hanger still in place. It is possible that the arms were deliberately broken off when the cross was put into use as a gatepost. Masson Phillips confirmed that it was in use, nearby, as a gatepost in 1937 and that it had been rescued and set up in its current position by 1958. This cross is probably much older than its finely worked sister, West Wyke Cross No. 2, which also sits beneath the same tree.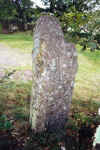 There is an incised cross on both the front and rear faces of the cross. That on the front measures 19 inches (0.48 metres) tall by 14 inches (0.36 metres) across the arms. This incised cross is set at an angle to the axis of the shaft. The incised cross on the rear face is 11 inches (0.28 metres) tall by 11 inches (0.28 metres) across the arms. The shaft of this cross runs parallel the main shaft and the arms are set about half way up the shaft.