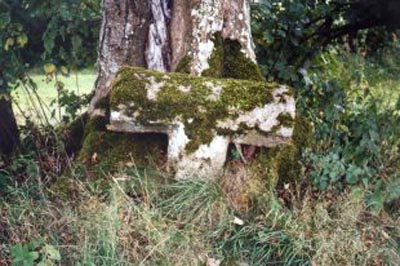 Location: Beneath the tree at the entrance to West Wyke Farm.
Please Note: The cross stands on private land belonging to West Wyke Farm and permission of the owner should be sought before making a visit.

O/S Grid Ref: SX/657/926 Longitude/Latitude (Degrees+/-): -3.90392/50.71810 (approx.)

Map location: Click here to view map.

Purpose: Probable waymarker.

Size: 1 foot 10 inches (0.56 metres) tall. 2 feet 8 inches (0.81 metres) across the arms. The shaft measures 11 inches (0.28 metres) wide by 10 inches (0.25 metres) deep.

Information: This well-worked octagonal cross is now in the shape of a letter 'T'. It was not always like this as, on close inspection, it can be seen that the head has been broken off immediately above the arms. Ormerod recorded his having seen this cross in 1874 in the same position and in the same condition as it is today. This cross stands under the same tree as the West Wyke Cross No. 1 but, due to its finer workmanship, it is probably much newer than its sister. It would have made quite an impressive sight when first erected.

Both crosses stand opposite the old and attractive stone farmhouse of West Wyke. The entrance to the garden is a fine granite archway, with a solid wooden door, above which are carved the coat of arms and the top is crowned with battlements. The farm was formerly a manor house, seat of the Battishill family.