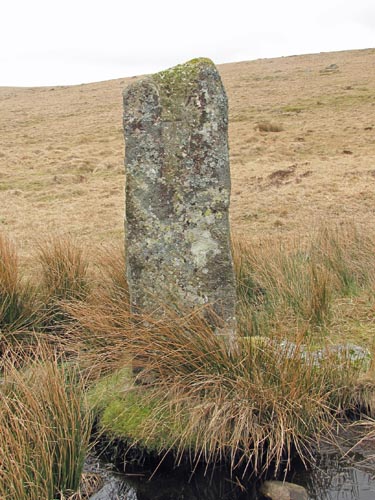 Location: Standing on a reave where it crosses the head of Whealam Bottom.

O/S Grid Ref: SX/61323/69492 Longitude/Latitude (Degrees+/-): -3.95710/50.50875

Map location: Click here to view map.

Purpose: Although uncertain, it is likely to have been erected as a boundary marker, perhaps by the tinners of the nearby Wheal Anne mine.

Size: The pillar is 5 feet 2 inches (1.58 metres) high from the top of the grass mound and tapers from 1 foot 4 inches (0.41 metres) at the top to 1 foot 7 inches (0.48 metres) at the base. The inscribed cross, which is on the North face, is 5 inches (12.5 centimetres) high and 4 inches (10 centimetres) across the arms.

Information: This large granite pillar, which has no arms, has a cross incised on itís Northern face. It has been suggested that this was once a cross that has been
badly mutilated but, if this is the case, no trace can be found of the head and arms. As its current site is not on any of the recognised routes, the shaft of the original cross was probably rescued and erected here as a boundary marker by the local tinners.