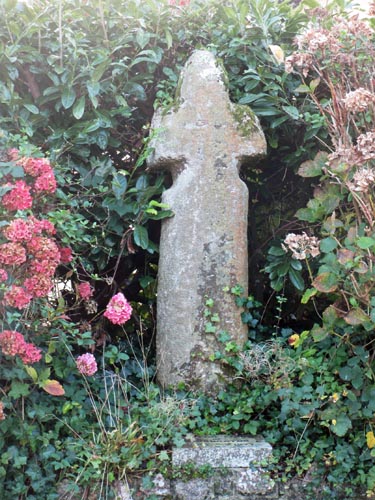 Location: The cross stands on top of the roadside wall of a thatched cottage called 'Wrangaton', at the corner of a junction on the road from South Brent to Bittaford.

O/S Grid Ref: SX/67676/57889 Longitude/Latitude (Degrees+/-): -3.86346/50.40593

Map location: Click here to view map.

Purpose: Waymarker.

Size: 5 feet 2 inches (1.58 metres) tall. 1 foot 7 inches (0.48 metres) across the arms. The shaft is 15 inches (0.38 metres) wide. The incised cross, on the roadside face, measures 10 inches (0.25 metres) high and 10 inches (0.25 metres) across the arms.

Information: This unusually shaped cross has been fashioned from a substantial block of granite. The shaft is oval in section, tapers slightly towards

the top and has been narrowed immediately below the arms in order to form a 'neck' and 'shoulders' below the head. The arms, which barely extend beyond the width of the shaft, have a pronounced slope on their outside edges. The head also tapers upward, almost to a point at the top. There is an incised cross on both of its faces.
The cross now stands in a modern rectangular socket stone, on the face of which is a plaque, which reads: VICTOR LOBB OF WRANGATON 1905 - 1977.
Mr Masson Phillips recorded that the cross was found at a nearby crossroads, being used as a gatepost. Thankfully, it was rescued and by 1937 it was standing in the middle of the lawn in the garden of Wrangaton House. In 1959 it was removed from the lawn and erected in its current position for all passers-by to enjoy. No records can be found of its origins but, judging by its size, it would have been an important monument and is unlikely to have been moved far from its original site.

The hamlet of Wrangaton nestles in a picturesque and rural setting in the parish of Ugborough, quite close to the South Eastern corner of Dartmoor. In the adjoining photo of Wrangaton Cottage, the cross can be seen on top of the wall immediately in front of the near corner of the house. The cottage sits on the corner of a road junction and in the centre of this junction, opposite the cottage, is a triangular area of grass bordered by a number of granite stones. Some of these stones have been 'worked' into rectangular and cylindrical shapes, but it is not known whether this was for any purpose other than their current use. Another similar stone stands in the field, on the opposite side of the road from the cottage, behind a small drinking trough.