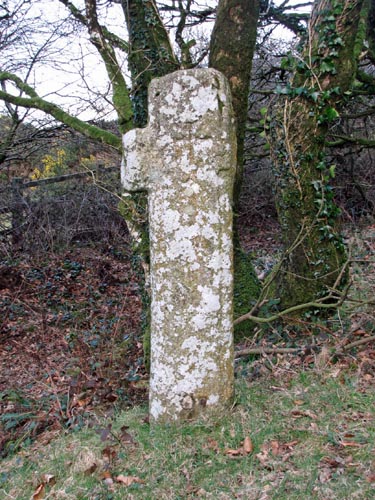 Location: On the Eastern side of the B3212, Princetown to Yelverton road, at a junction with a minor road from Walkhampton Church to Burrator Reservoir. The cross is set back into the undergrowth.

O/S Grid Ref: SX/54533/69446 Longitude/Latitude (Degrees+/-): -4.05278/50.50669

Map location: Click here to view map.

Purpose: Waymarker to Buckland Abbey and it is also possible that it was used as a boundary stone for the lands belonging to the Abbey.

Size: 3 feet 9 inches (1.15 metres) tall. 1 foot 2 inches (0.35 metres) across the shaft and remaining arm.

Information: This cross has been badly mutilated with one arm knocked off and showing the obvious signs of having, at one time, been used as a gatepost. Confirmation of this can be seen by the remains of a gate hanger still in place at the base of the Western face of the shaft. There is another hole beside the hanger, which has now been filled in with cement.

William Crossing wrote that he found this cross built into one of the walls of the nearby Burham Farm. The actual farm is midway between the junction where the cross now stands and the village of Walkhampton. However, the cross was found in the roadside wall, on the right-hand side of the road from Dousland to Walkhampton. It was Mr Masson Phillips who, in 1974, arranged for it to be recovered and set up at its current site. It is quite probable that the socket stone now to be seen 600 yards down the road towards Dousland, at the entrance to the lane leading to Burham Farm, is the original belonging to this cross.

The cross has an incised cross in the middle of each face. The one on the Western face measures 5˝ inches tall by 5 inches across the arms. The one on the Eastern face is 7 inches tall by 6 inches across the arms. A concave chamfer has been taken off the corners of the shaft, giving the impression that there is a raised cross on each side of the shaft. The full width of the shaft is 10 inches, which has been reduced to 7 inches by this

chamfer.
Buckland Abbey was founded, as a Cistercian Monastery, by Amicia, Countess of Baldwin de Redvers, Earl of Devon. The foundation deeds were signed by Amicia in 1272. In addition, the Abbey had bestowed upon it a vast quantity of land, including the manors of Buckland, Bickleigh and Walkhampton. In setting out the boundaries of the lands six crosses were named in the deeds, amongst other objects and natural features, as follows: Crucem Siwardi (Nuns' Cross), Smalacumbacrosse, Yanedonecrosse, Maynstoncrossa, Crucem de Wolewille and Copriscrosse. It is quite possible that the cross we see today might well be the original Yanedonecrosse named in the deeds and that it now stands not far from its original site.