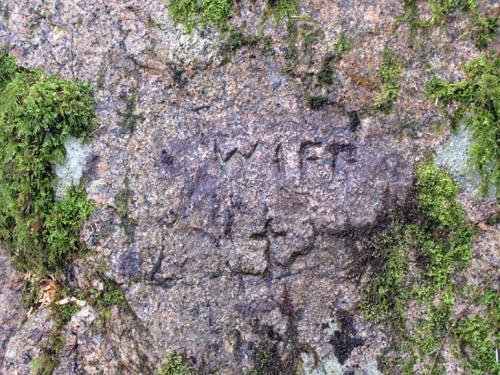 Location:
Amongst the trees and beside the track that runs up from the Burrator Reservoir road to the ruins of Narrator Farm.
O/S Grid Ref: SX/56672/68807 Longitude/Latitude (Degrees+/-): -4.02239/50.50147
Map location: Click here to view map.
Purpose: This is believed to be an incised memorial cross.
Size: The incised cross is just 2 inches (51mm) high and 1¼ inches (32mm) across the arms. The rock on which the cross has been incised measures 4 feet 8 inches (1.42 metres) wide by 16 inches (0.41 metres) deep and 3 feet 5 inches (1.04 metres) high.
Information: The stone has had a rectangle, measuring 9 inches (0.23 metres) by 6 inches (0.15 metres), cut into its face low

down in the centre. The area within the rectangle has been smoothed off and is slightly darker than the rest of the stone. Within the rectangle the letters WIFF have been engraved, with the inscribed cross appearing below these letters. It would appear as though this has been done as a memorial, but it is not known to whom it might have related.
The stone sits to the right of the lane that runs up from the unclassified reservoir road to the foot of Sheeps Tor. Further up the lane the moss-covered remains of Narrator Farm can still be seen. This would originally have been a longhouse nestling beneath majestic beech and elm trees, with a scenic view over the area that is now occupied by the Burrator Reservoir, to the heights of Leather Tor and Sharpitor beyond. Unfortunately, the deciduous trees are now long gone and have been replaced by quicker growing conifers.

Of the occupants of the farm, records show that is was the home of John Bayley, Lord of the Manor of Sheepstor, in 1850. Later, from 1914 to 1923, the tenants were Harold Watkins and his wife. Mrs Watkins claimed the area was a favoured by the local snakes and that she once killed 16, in the space of half an hour, that had entered the house through her kitchen window. It has also been reported that a pine marten had been seen on the kitchen window sill in the 1950's.
Our thanks to Robert Noakes for bringing this cross to our attention.