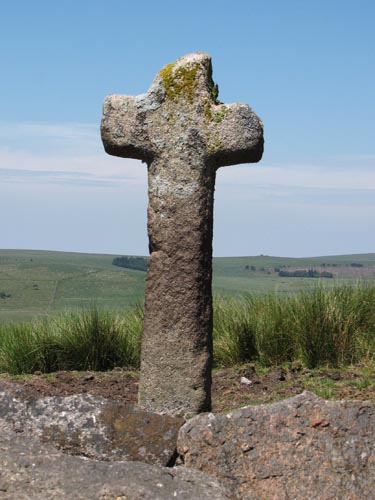 Location: Inside the Corner of the Fox Tor Newtake wall on Ter Hill

O/S Grid Ref: SX/63660/70593 Longitude/Latitude (Degrees+/-): -3.92457/50.51919

Map location: Click here to view map.

Purpose: One of a number of crosses that marks the route of the Monks' Path. This is the ancient name given to the track that links the Buckfast Abbey with those at Tavistock and Buckland. This path takes a more northerly route than the more commonly known Abbots' Way.

Size: 5 feet 7 inches (1.70 metres) tall. 2 feet 4 inches (0.70 metres) across the arms.

Information: 'Mount Misery' is the local name for this corner of the Fox Tor Newtake, so called due to the harsh conditions encountered when

working in this exposed corner. William Crossing reports that, in the summer of 1878, this cross was lying flat on the ground. When he visited it again in 1879 it had been re-erected, but by 1885 it was once more found lying on the ground. It was again re-erected in 1885 by the Dartmoor Preservation Society, ably assisted by William Crossing, and has remained in place ever since.