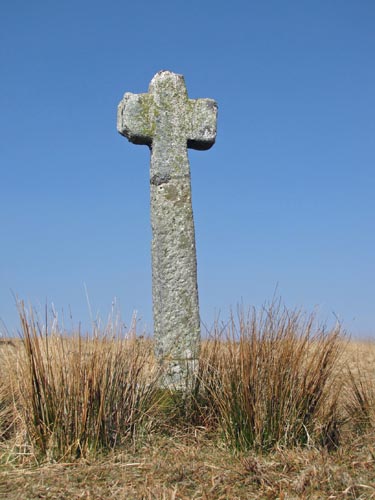 Location: Beside the established track from Whiteworks to the Raddick Plantation, opposite the Newleycombe Gert (Mineworkings).

O/S Grid Ref: SX/59184/70304 Longitude/Latitude (Degrees+/-): -3.98756/50.51553

Map location: Click here to view map.

Purpose: This is probably one of a number of crosses that marks the route of the Monks' Path. This is the ancient name given to the track that links the Buckfast Abbey with those at Tavistock and Buckland.

No-one is entirely sure which course the path took to the West of Nun's Cross. However, considering the number of ancient crosses on this track it is perfectly feasible that it passed this way, via Walkhampton, to Tavistock and Buckland.

Size: 6 feet 1 inch (1.86 metres) tall. 1 foot 11 inches (0.59 metres) across the arms.

Information: We have heard this cross referred to as 'Medieval Cross'. It is certainly an ancient cross and, like so many others, has been thrown down and damaged in the past. The original head and the upper part of the shaft were found lying damaged, in the 19th Century, near to the spot where it now stands. The lower section of the shaft was made when the cross was repaired and reset to its current position.