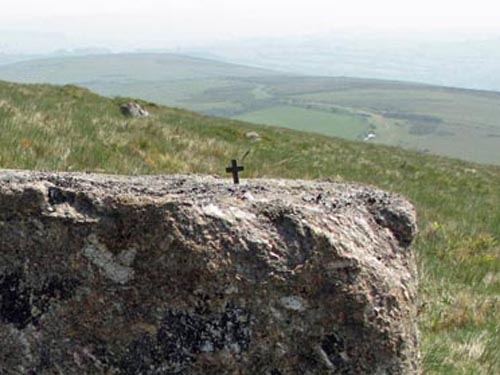 Location: In the Hameldown area.

Grid Ref: Due to the fact that other similar crosses on the moor have been either stolen or damaged, we have decided not to publish the exact location of this cross.

Map location: See above.

Purpose: This is believed to be a memorial cross.

Size: The cross is just 1¾ inches (45mm) high and measures 1¼ inches (30mm) across the arms. The width and depth of the shaft is just under ¼ inch (5mm). The rock on which the cross sits measures 4 feet 5 inches (1.35 metres) by 4 feet 2 inches (1.27 metres) and is 22 inches (0.56 metres) high.

Information: This little cross is cemented into a small cleft on the top of a rock situated near the track that runs over Hameldown. It is certainly the smallest cross that we know of on the moor and its shaft is slightly bent. However, its position commands a wonderful view of the moorland in an arc from Dartmeet, through Princetown around to the Postbridge area.

The South East face of the cross has the year '1990' engraved in dots across the arms. The North West face has 'RIP' engraved across the arms and the date of '27.2.91' engraved up the shaft, again all in dots.

Our thanks to Mistybraken (Shirley) for bringing this cross to our attention.