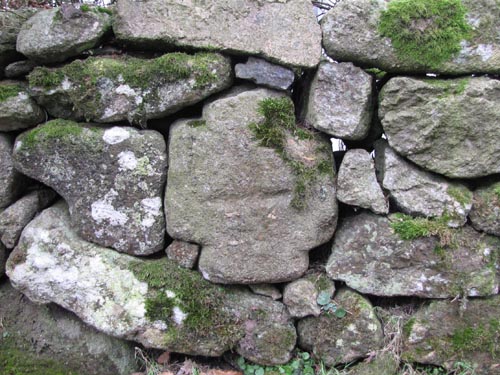 Location: Built into the roadside garden wall of the private house next to Swallerton Gate.

O/S Grid Ref: SX/73909/79149 Longitude/Latitude (Degrees+/-): -3.78297/50.59840

Map location: Click here to view map.

Purpose: Not known.

Size: 1 foot 5 inches (0.43 metres) tall, 1 foot 2 inches (0.36 metres) across the arms. The inscribed cross is 7 inches (0.18 metres) high and 7 inches (0.18 metres) wide.

Information: The origins of this cross are not known, although it's recent history is interesting. According to the present owner it was amongst a pile of rubble about to be placed as hardcore for the flooring of the extension, previously used to house bullocks and now a holiday cottage. As the stone was being moved, a voice called over the garden wall, informing the owner that what he was holding was the head of a mediaeval cross. The knowledgeable stranger was none other than Harry Starkey and his timely intervention resulted in the cross being saved and used in the construction of the garden wall, rather than lost to posterity. The roadside face has an incised cross in the centre of its head.



The house was, until 1840, a public house called the Hound Tor Inn. This was a cider house that was frequented by travellers in the early days of the wool trade. The thatched house, which is now a private dwelling, is of two different ages. The lower level being much older than the taller, Northern end, which is a Victorian addition. Water used to be carried to the house by a pot-water leat, supplied by a nearby spring, which still flows today.



In the centre of the small green, on the opposite side of the road and nearer to the gate, lies a very good example of a granite trough.
On the corner of the garden wall can be seen a granite gatepost. I am informed by the present owner that a gate previously spanned the road at this point and was part of the boundary between two commons with separate grazing rights. An elderly local once told the owner that he could remember as a boy standing duty at the gate and charging travellers on their way to market a penny to pass through.