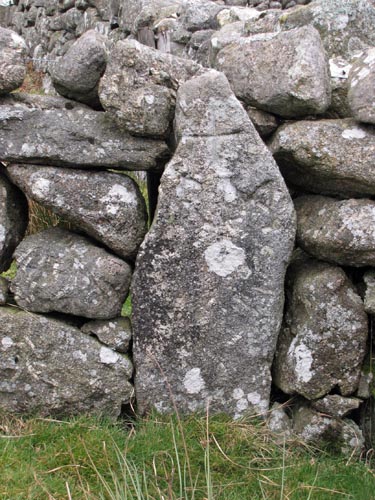 Location: Built into the corner of the dry stone wall, just to the south east of Hemsworthy Gate.

O/S Grid Ref: SX/74249/76047 Longitude/Latitude (Degrees+/-): -3.77712/50.57059

Map location: Click here to view map.

Purpose: This cross was erected to mark the boundary of the manor of Dunstone.

Size: 3 feet 7 inches (1.09 metres) tall, 16 inches (0.41 metres) wide. The Inscribed cross is 6½ inches (0.16 metres) high and 6½ inches (0.16 metres) wide.

Information: A cross has been engraved into the top of this pillar, with the initials 'R M' below. These initials are thought to represent Rawlin Mallock, an 18th Century Lord of the Manor.

The Mallock family were merchants from Exeter, who bought the Manor of Cockington in 1654. The family occupied Cockington Court for twelve generations. It was the fourth Rawlin Mallock who, in the 18th Century, purchased the Manor of Dunstone and had this cross erected to mark the boundary of his estate.

This boundary stone has never been a cross in the accepted sense. However, it is quite possible that it stands on the site of an ancient cross, which would have marked a junction in the tracks in the days before the modern roads were built.

It is not known where the name of Stittleford came from, but it could be a derivation of Chittleford, the name of a centuries old farm about 2 kilometres away to the west. The cross is also sometimes known as Stentiford Cross.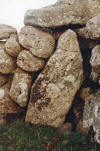 For a number of years the cross has been leaning over at quite an angle within the wall as can be seen by this photo, taken in 1996. However, the wall has recently been repaired, at which time the opportunity was taken to reset the cross into an upright position.