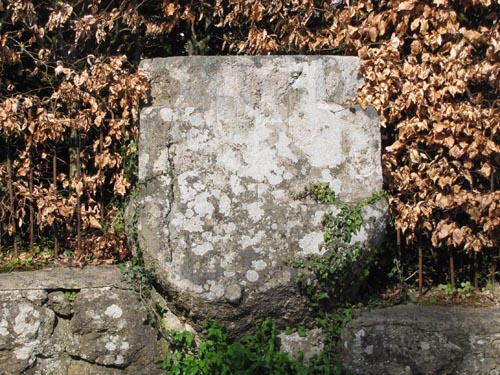 Location : At the North end of the village of Lustleigh, on the junction which turns down to the (disused) Railway Station.

O/S Grid Ref: SX/78603/81541 Longitude/Latitude (Degrees+/-): -3.71747/50.62090

Map location: Click here to view map.

Purpose: Probable base for a wayside cross.

Size: 2 feet high. 3 feet wide.

Information: This stone, which is built into the roadside wall, is thought to have been selected as a base for a cross. No socket has been cut into the top of the stone, so it must be assumed that either it was abandoned for this purpose very early on or it was intended for use as a plinth for a socket stone and cross.



The top part of the stone has been shaped into an octagon. Immediately below this the stone is square and the bottom is very roughly shaped, suggesting that the task had never been completed.
There are two theories as to how it got its name; One is that it was named after the Bishop Grandisson, who was a 14th Century Bishop of Exeter. He was once supposed to have dined upon the stone whilst passing through the village. There are some faint markings on one side of the stone which are thought to represent the Bishop's coat of arms.
The other theory is that it was used as a mustering point for the villagers, before setting off on their journey to the Abbey at Tavistock. After leaving Lustleigh, they would have joined with the residents of North Bovey and called at Hele Cross to say a prayer, before continuing their long trek across the moor to Tavistock.