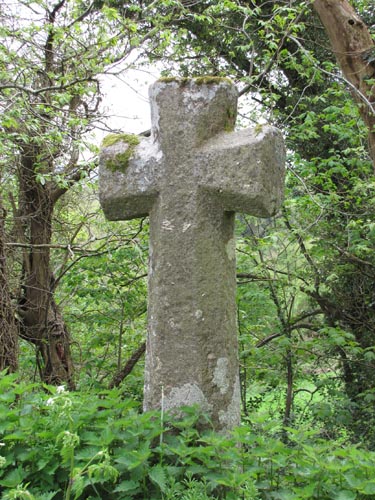 Location: On the side of the road between Beetor Cross and North Bovey, at the junction next to Hele Farm.

O/S Grid Ref: SX/72132/84171 Longitude/Latitude (Degrees+/-): -3.80980/50.64315

Map location: Click here to view map.

Purpose: Waymarker / Meeting point.

Size: 5 feet 9 inches (1.75 metres) tall. 2 feet 2 inches (0.65 metres) across the arms.

Information: This is a fine example of a Maltese Cross, with an octagonal shaft and arms. The shaft is set into a socket stone which is square at the bottom but which has been chamfered into an octagon at the top. Similarly, the shaft is square at the bottom, but is chamfered into an octagon about 12 inches above the socket stone.

Tradition has it that there was once a chapel at the bottom of the hill, towards North Bovey, beside the stream and that this cross belonged to the chapel. People used to gather around the cross to say a prayer for a safe journey before setting off on the long trek to the Abbey at Tavistock.
The lane leading to this cross is very narrow and little used, with grass growing up through the surface in the middle of the road in places. However, it is a real pleasure coming across this fine cross in such a lonely and isolated spot.