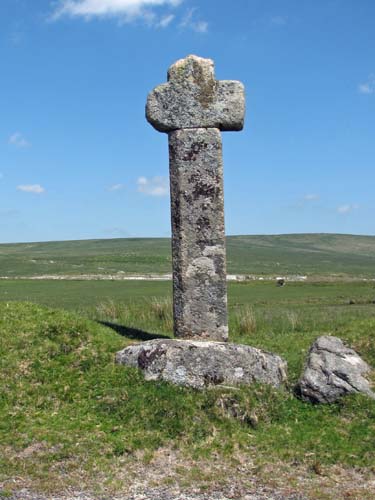 Location: At the side of the track, about 2 miles south-east of Cadover Bridge, at the point where it is joined by west to east track across Shaugh Moor.

Grid Ref: SX 57051 63111 Map location: Click here to view map.

Purpose: Waymarker on the route to the Plympton Priory.

Size: 6 feet (1.83 metres) tall. 2 feet (0.61 metres) across the arms. The shaft is 13 inches (0.33 metres) wide and 9 inches (0.23 metres) in depth.

Information: Although generally known as Blackaton Cross, it is sometimes referred to as Roman's Cross. The reason for this alternative name is not known for sure, but there may be a connection with the monks of Tavistock Abbey. St Rumon is one of the saints to whom the Tavistock Abbey is dedicated and it could have been named by these monks on their passage across the moor. William Crossing prefers the alternative suggestion that it was so named as a shortened version of the 'Roman Catholic Cross', again in association with the monks passing this way across the moor. The name Blackton is taken from the nearby Blackaton Slaggets, an area that was once extensively used for cutting peat.

Sadly, only the head and socket of this cross are original, the shaft being a relatively modern replacement. This was taken from a windowsill at the nearby Lee Moor House and donated by the occupant, Mr Phillips. Signs of its former use can still be seen in the chamfered edge on one corner only of the shaft. On the eastern face of the shaft there are three indentations; the top two are 3 inches in diameter, with the third being 2 inches in diameter and 1 inch deep. These were probably originally drilled in order to fix the windowsill into place. Previously, the head sat directly into the socket stone and it was Mr Phillips, himself, who fitted the shaft and restored the cross to its former glory.

One of the arms has sustained some damage over the years and is now about 4 inches shorter than the other. The cross sits in its original socket stone, which is almost circular and measures 3 feet (0.91 metres) in diameter and 12 inches (0.30 metres) deep.
About 400 yards to the west of Blackaton Cross and standing on a tumulus, is Emmet's Post. This is a worked piece of granite, about 3 feet (0.91 metres) tall and showing all the signs of having been split by the tare and feather method. This is a boundary marker, set up to show the limits of the lands formerly held by Lord Morley and Sir Massey Lopes.

The eastern face has been inscribed with 'LM' (Lee Moor) and the western face with 'SM' (Shaugh Moor).