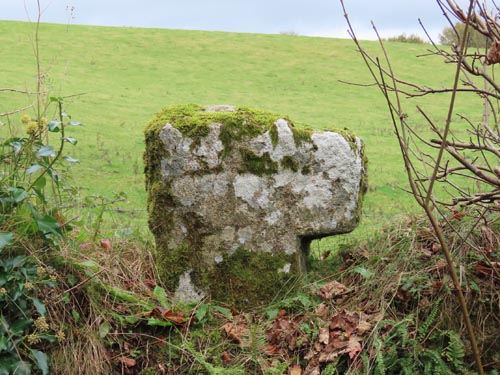 Location: About 1 kilometre to the North East of Gidleigh village. It is built into the roadside wall, just a few yards to the West of Blackaton Bridge and right opposite the entrance to Blackaton House.

O/S Grid Ref: SX/678/890 Longitude/Latitude (Degrees+/-): -3.87274/50.68587 (approx.)

Map location: Click here to view map.

Purpose: Waymarker.

Size: 1 foot 10 inches (0.55 metres) tall. 1 foot 7½ inches (0.50 metres) across the shaft and the remaining arm.

Information: The cross is built into the roadside wall, with only the top of the shaft and one arm being visible. Unfortunately, the other arm and head are completely missing. As the shaft extends down inside the wall it is not possible to measure the full height of the cross.

In the centre of the roadside face there is an incised cross set within an incised circle. The circle measures 11¾ inches (0.30 metres) in diameter. That part of the cross that is visible measures 10 inches (0.26 metres) high and 10½ inches (0.27 metres) across the arms. However, with the head of the cross now missing, the top section of the incised circle and cross has disappeared with it. I would estimate that, when intact, the incised cross was equal in height and width, at 10½ inches, and was centred within the circle.

It seems as though this cross came to light during the 1950's when a nearby wall collapsed and it was found lying amongst the rubble. It was later set up in its current position.

This is a nice quiet little spot on the back road between Gidleigh and Throwleigh. The Blackaton Brook runs down the valley and through the grounds of Blackaton House. The house, itself, is an unusual shape, with a thatched roof and is probably very old. The extensive grounds have been landscaped to include this completely natural water feature.