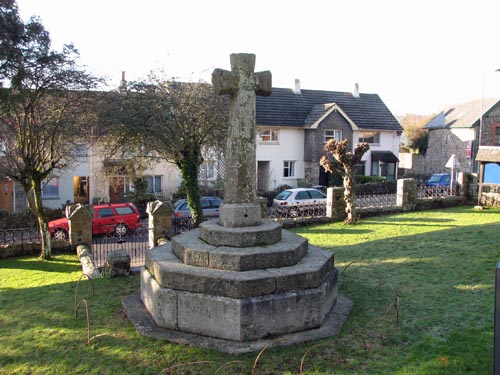 Location: On the green, between the church gate and the churchyard.

O/S Grid Ref: SX/82049/78585 Longitude/Latitude (Degrees+/-): -3.66783/50.59503

Map location: Click here to view map.

Purpose: Churchyard Cross

Size: 6 feet 1 inch (1.85 metres) tall. 2 feet 4 inches (0.71 metres) across the arms. The depth of the shaft is 9 inches (0.23 metres).

Information: What we see today is an elegant Maltese Cross, with chamfered edges all round and a tapered shaft. The base, which is 12 inches high, has chamfered angles and is set up on a pedestal of three octagonal steps.

However, this is another cross with a very chequered history. During the early part of the 19th century, Lord Courtenay found the shaft and one arm of the cross built into the steps at the churchyard gate. He arranged for it to be rescued, repaired and set up at the East end of the Church. These repairs involved carving some new stone to complete the cross and this was effected in a very skilful manner.

After restoration the cross was twice thrown down, as a result of the conflict within the Church of England that was taking place at the time. In order to save the cross from further damage, Lord Courtenay, Earl of Devon, got permission to remove the cross to his home, at Powderham Castle, for safekeeping. In 1849 the Hon. Canon Courtenay, a relative of Lord Courtenay, became vicar of the church and it was he who arranged for the cross to be brought back to the church and set up in its current position. The cross now bears the following inscription on the bottom step of the plinth:

In Memorium
Charles Leslie Courtney, Priest
45 Years Vicar of this Parish
OBIIT OCTOBER 29th 1894

Bovey Tracey Church is unusual in that it has been dedicated to three saints: St. Peter, St. Paul and St. Thomas of Canterbury. There is a story which relates how the church was built by William de Tracey, as a penance for his part in the killing of St. Thomas à Becket. However, no evidence can be found to support this story. There would also appear to be no connection between William de Tracey and the name of Bovey Tracey.