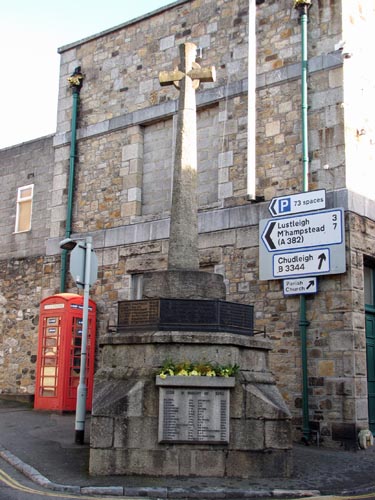 Location: Adjacent to the Town Hall, on the junction of Fore Street and Mary Street.

O/S Grid Ref: SX/81706/78578 Longitude/Latitude (Degrees+/-): -3.67268/50.59490

Map location: Click here to view map.

Purpose: Market Cross / War Memorial.

Size: 8 feet tall.

Information: The ancient Market Cross now doubles as the town's war memorial. The shaft is original and is square at the bottom and octagonal for the rest of its length. It also tapers towards the top. The socket stone is original and stands on a double pedestal, which themselves are set on a base of modern stones. The top of the pedestal and base have been shaped into an octagonal form. The head and arms of the cross are modern and also taper inwards. A ring of stone is fixed around the top of the shaft at the point where the shaft and head are joined.

The memorial inscription for both World Wars I and II have been engraved in bronze and, similarly, the rising edge of the step of the pedestal has also been edged in bronze.

The cross was moved to its current position in 1865 to make way for the building of the new town hall. It was at this time that the new head was made and fitted. This was arranged as a gift to the town by the then Vicar of Bovey Tracey, the Hon. Canon Courtenay, relative of Lord Courtenay, Earl of Devon, whose seat is traditionally at Powderham Castle. The work was carried out by a local stonemason, by the name of Treleaven.