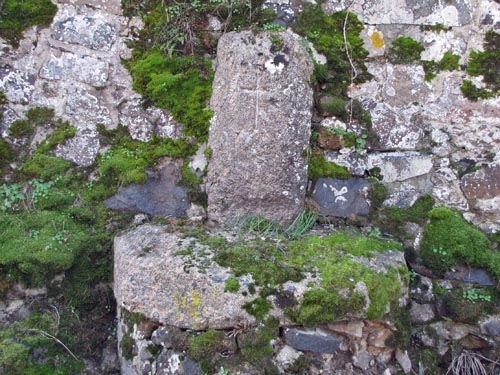 Location: Built into the wall of Cross Cottage, opposite the entrance to Bovey Tracey Hospital.

O/S Grid Ref: SX/81418/78853 Longitude/Latitude (Degrees+/-): -3.67683/50.59731

Map location: Click here to view map.

Purpose: Ceremonial stone.

Size: 2 feet 9 inches (0.84 metres) high, 1 foot 6 inches (0.46 metres) wide. The incised cross is 10 inches (0.25 metres) high and 7 inches (0.18 metres) across the arms.

Information: This much weathered cross consists only of a short length of shaft, with slightly chamfered edges, set into an octagonal socket stone. The width of the socket stone is 4 feet 6 inches. There is an incised cross on one face of the shaft and it is thought that this was engraved at the time the cross was moved to its current position.

Both shaft and socket stone have been built against the garden wall of Cross Cottage. It was moved to this position in 1815, by Dr Crocker, due to a road-widening scheme which took place during that year.

Mr G.W. Ormerod wrote that, during the medieval period, the Portreave (equivalent to our modern day Mayor) of Bovey Tracey used to ride around the cross and strike it with a stick in ceremonial fashion. This would take place on the first Monday after 3rd May each year and probably coincided with his appointment to this position. Bovey Tracey was a market town, originally granted under charter on 18th July 1260, and would therefore have been required to appoint certain civic dignitaries under this charter. This ceremony continued when the post of Mayor succeeded that of Portreave and the day, which became known as 'Mayor's Monday', was declared a local holiday.