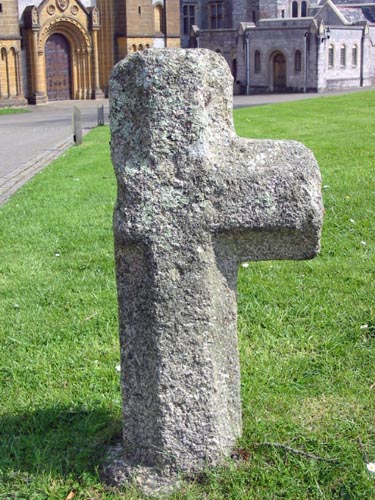 Location: In a lawn, within the Abbey grounds and a few yards to the West of the ex Great Palston Cross.

O/S Grid Ref: SX/74076/67414 Longitude/Latitude (Degrees+/-): -3.77665/50.49297

Map location: Click here to view map.

Purpose: Waymarker for the ancient route from North Devon, through Okehampton, to Plympton and Plymouth. It would also have served as a local waymarker for those travelling from outlying farms to their church at Peter Tavy.

Size: 2 feet 6 inches (0.76 metres) tall. 1 foot 3 inches (0.38 metres) across the shaft and remaining arm. This latter measurement would have been 1 foot 10 inches (0.56 metres) had the second arm still been in place.

Information: The cross has a curved concave chamfer on all edges of its shaft, head and the remaining arm. Two holes have been drilled into the shaft opposite its remaining arm, as though an attempt has been made to fix the missing arm onto the shaft by the use of dowels. This was obviously unsuccessful and the arm has now, regretfully, become lost.

The first recorded mention of this cross was by Mr Masson Phillips, who came across it in 1937. He found it buried in the garden patch in front of the old smithy at the Moorshop Crossroads, about 2 miles to the east of Tavistock. It was intended to re-erect the cross at these crossroads, but World War II intervened and this never happened. However, in order to preserve the cross, it was presented to the monks of Buckfast Abbey for safekeeping by the landowner, Mrs Calmady Hamlyn. This is similar to the cross which was found at the entrance to Great Palston Farm, on the outskirts of South Brent and which now stands nearby.

As set out above, one of the original purposes of this cross was to mark the route from outlying farms, through Moorshop Cross, to the church at Peter Tavy. A second cross along this route now stands by the side of the road near to Headlands Farm. Although the two crosses are dissimilar in style they do, unfortunately, have one thing in common in that they both have one arm missing.

Although now sited a long away from its original position, the cross does still have a tenuous link with its former home. The annual Abbot's Way walk, organised by the Tavistock & District Youth Forum, starts in the grounds of Buckfast Abbey. The walk follows a route from the Abbey, across the open moor to Princetown and on to Tavistock. This latter section passes within half a mile to the south of Moorshop, the original site of the cross.