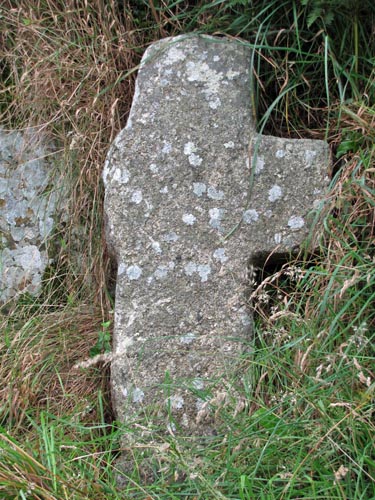 Location: From the Moorshop crossroads on the Tavistock to Two Bridges road (B3357) take the turning North towards Peter Tavy. After about 1 mile, turn right to Old Sowtontown Farm. On reaching the farm, turn right again up a dead end road and the cross will be found at the side of the road, on a left hand bend, about 200 yards past Headlands Farm.

O/S Grid Ref: SX/51646/76178 Longitude/Latitude (Degrees+/-): -4.09615/50.56646

Map location: Click here to view map.

Purpose: Waymarker for the route to Peter Tavy Church.

Size: 3 feet 9 inches (1.15 metres) tall. 1 foot 8 inches (0.50 metres) across the arms.

Information: This is yet another cross that has been badly treated in the past, having been used as a gatepost. As with a number of crosses that have been misused, one of the arms is missing and the other has been reduced from its original length.

Its original position is not known, but is likely to have been somewhere along the road from Moorshop to Peter Tavy and its purpose would have been to mark the route from the outlying farms to Peter Tavy church.

There are no records as to when it was first taken and used as a gatepost, but Mr Masson Phillips recorded that it was in use for this purpose in 1937. Harry Starkey wrote that it was in 1981, when the gateway was widened, that it was rescued and set up in a more appropriate position, nearby, where we see it today.