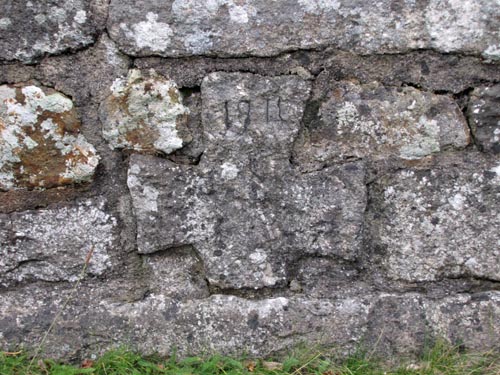 Location: Built into the centre of the eastern parapet of Budleigh Bridge, about a mile outside of Moretonhampstead, on the A382 road to Bovey Tracey.

O/S Grid Ref: SX/76269/85450 Longitude/Latitude (Degrees+/-): -3.75175/50.65554

Map location: Click here to view map.

Purpose: Not known.

Size: 18Ĺ inches (0.47 metres) high. 20 inches (0.51 metres) across the arms. The shaft is 8 inches (0.20 metres) wide.

Information: This well made cross is likely to be of relatively recent origin. The head and arms taper inwards and there is only a 5 inch length of shaft still attached to the cross. The width of the parapet of the bridge is 13 inches but, although flush with the front face of the bridge, the cross is not to be seen at the rear. Behind the cross, the back of the parapet is faced with a number of smallish stones, which means that the cross must be quite slender. The date of 1911 is carved into the head of the cross.

Mr E. N. Masson Phillips appears to be the first person to record any mention of this cross, in 1959, after it was discovered and reported to him by the Roadís Engineer of the Devon County Council. The bridge was completely rebuilt in 1982, which gave Harry Starkey the perfect opportunity to examine the cross in more detail. He found that the upper edge of the cross bore half-rounded grooves to show that it had been separated from a larger stone by the use of a drill. This means that it could not have been made any earlier than about the year 1800. He goes on to suggest that it was a throw-out from a Monumental Masonís yard and that it was used to simply make up the stone on the bridge. Iím glad to say that it now holds a prominent position in the centre of the parapet of the bridge.

Budleigh Bridge is shown as One Mill (Mile) Bridge on the Ordnance Survey map, due to it being about one mile from the centre of Moretonhampstead. On the north eastern side of the road, just before reaching the bridge from Moretonhampstead, a private lane leads up to Budleigh Farm. It is probably from this farm that the original name of the bridge was derived.