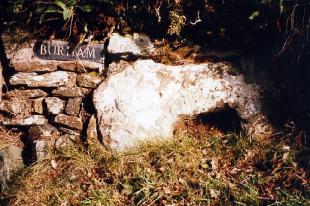 Location: Set into the hedge at the right hand side of the entrance lane to Burham Farm off the B3212, about 400 yards north east of Dousland.

This socket stone has been reported missing - see the News page

O/S Grid Ref: SX/540/691 Longitude/Latitude (Degrees+/-): -4.06072/50.50407 (approx.)

Map location: Click here to view map.

Purpose: Socket stone for the waymarker to Buckland Abbey and it is also possible that the cross it held was used as a boundary stone for the lands belonging to the Abbey.

Size: 3 feet 3 inches (0.99 metres) wide. There is 1 foot 8 inches (0.51 metres) of its height visible. The stone is 6 inches (0.15 metres) deep. The socket is 13 inches (0.33 metres) wide, by 8 inches (0.20 metres) high.

Information: The socket stone is set vertically into the hedge at the entrance to the farm lane. Although it is not currently possible to measure its full height, due to part of the stone being below ground level, William Crossing recorded it as being 2 feet 6 inches. The stone is roughly oblong in shape, with a piece missing from the top left hand corner. It can be seen that the socket goes right through the stone.

It has been suggested by both William Crossing and Harry Starkey that this is the original socket stone for the nearby Yennadon Cross. Certainly the size of the socket is a very good match for the shaft of this cross. Furthermore, the cross was also found built into another of the Burham Farm walls, albeit some distance away on the Dousland to Walkhampton road. It is quite probable that both cross and socket stone were originally those named in the 1280 foundation deeds of Buckland Abbey as Yanedonecrosse and used to mark the boundary of the Abbey lands. Although both cross and socket stone have been used in the farm walls, it is not thought that they have been removed very far from their original site, which is probably that of the current Yennadon Cross.