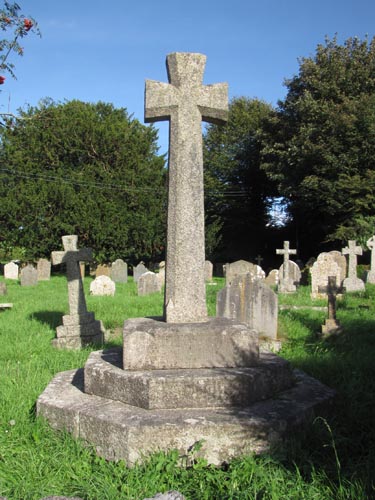 Location: In the south west corner of the Dean Prior Churchyard.

O/S Grid Ref: SX/72997/63514 Longitude/Latitude (Degrees+/-): -3.79052/50.45766

Map location: Click here to view map.

Purpose: This cross serves as the village war memorial.

Size: The cross measures 7 feet 3 inches (2.13 metres) in height and 2 feet 3 inches (0.69 metres) across the arms. The shaft, measured at its base, is 12 inches (0.30 metres) wide and 10½ inches (0.27 metres) in depth.

Information: This fully chamfered Maltese Cross sits in a rectangular base on a pedestal of two octagonal tiers. The socket stone measures 3 feet 3 inches (1.00 metre) by 2 feet 9 inches (0.84 metres) and the upper edge is chamfered on all four sides, with rounding on the corners. The upper tier of the pedestal is composed of two stones with a height of 8 inches (0.20 metres) and the lower tier is made up of four stones with a height of 10 inches (0.25 metres).

The side of the socket stone, facing the main road, shows an inscription but this has become faded over the years and is now difficult to read. However, the bottom line of the inscription refers to 'The World War 1914 -18'. Beneath the inscription, on the upper pedestal, the names of three local men who lost their lives in the war have been inscribed. Again, these have become illegible due to fading on the stone.
The 14th century church of Dean Prior, dedicated to St. George the Martyr, is situated to the east of and very close to the Devon Expressway. However, the majority of houses in the village are situated on the other side of the dual-carriageway, which must cause the parishioners some difficulty in travelling to and from the church. Amongst the former vicars of the church, was the 17th century English poet, Robert Herrick, who was the incumbent from 1629 to 1674, except for a short spell when he was evicted by Oliver Cromwell.
Our thanks go to Chris Taylor for bringing this cross to our attention.