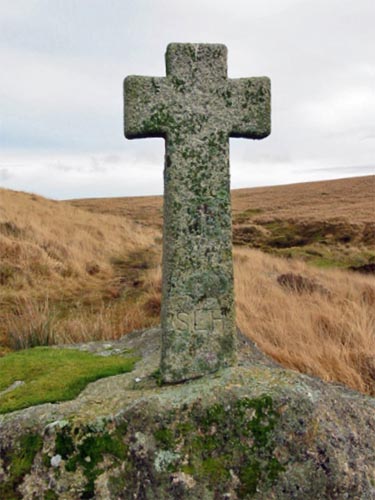 Location: Beside the Devonport Leat, about 500 yards west of Nun's Cross Farm.

O/S Grid Ref: SX/59955/69913 Longitude/Latitude (Degrees+/-): -3.97654/50.51221

Map location: Click here to view map.

Purpose: This cross was set up in 1968 by Lt. Commander B. Hutchinson R.N. as a memorial to his mother, Mrs S.L. Hutchinson.

Size: 4 feet 7 inches (1.40 metres) tall and 2 feet (0.61 metres) across the arms. The shaft tapers from 1 foot 1 inch (0.33 metres) at the base to 10 inches (0.25 metres) below the arms.

Information: Being modern, this cross is in very good condition and has been well fashioned from a single block of granite. The rectangular shaft tapers up towards the

arms, which are also slightly tapered inwards. The shaft bears the inscription S.L.H. on the Western face and 1887 – 1966 on the Eastern face.
It appears as though the socket stone once held an ancient cross, one of the series that marked the way for the Monks' Path, but there is now no trace of that earlier cross.