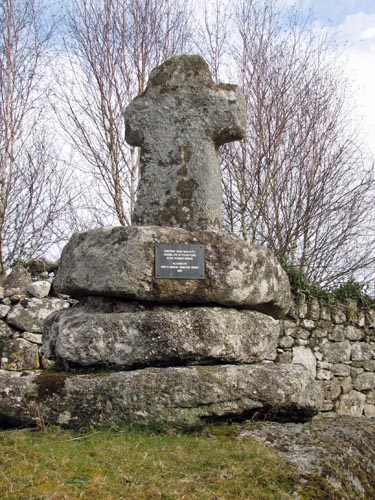 Location: On the village green at Lower Dunstone.

O/S Grid Ref: SX/71672/75845 Longitude/Latitude (Degrees+/-): -3.81342/50.56821

Map location: Click here to view map.

Purpose: Waymarker for the path to Widecombe Church.

Size: 3 feet (0.91 metres) tall. 1 foot 11 inches (0.58 metres) across the arms. The shaft is 14 inches (0.36 metres) wide and 8 inches (0.20 metres) in depth.

Information: The manor house next to the village green is Dunstone Court, the traditional home of the Hamlyn family. Prior to 1860, the cross had fallen and was taken for safekeeping by the Rev. J.H. Mason, Vicar of Widecombe, and set up at the end of the wall to his garden. In 1981, Miss M. Hamlyn arranged for the cross to be re-erected in its rightful place back on the Dunstone village green.

On one face of the cross, below the level of the arms, there is an incised cross which measures 8 inches (20 centimetres) high and 5 inches (13 centimetres) across the arms. The shaft of the cross is shorter than it was originally and it has been set up on a stack of three boulders.

The top boulder bears a plaque which gives a brief history of this ill-treated cross.
Also on this tiny village green is the 'Dun', or 'Rent' Stone. This is a large boulder with a flat top, which is pock-marked with small

depressions or rock basins. During previous centuries, the Lord of the Manor used to hold his court here and his tenants would deposit their rent, in coins, in these depressions. It is said that, during the plague, vinegar would have been poured into the depressions in order to cleanse the coins and to reduce the chance of a spread of the infection. Did the presence of this 'Dun Stone' give its name to the Manor? Or was it the other way around?