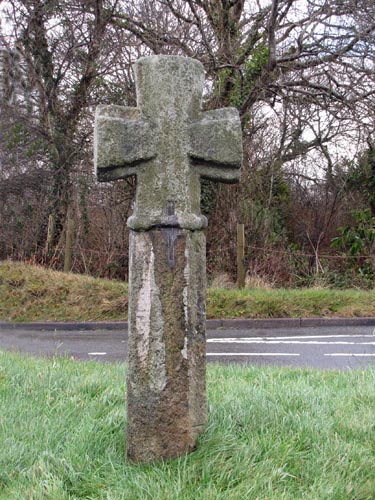 Location: The cross is set on a raised triangle of grass at Durdon Cross, about 1 mile to the east of the village of Northlew.

O/S Grid Ref: SX/52216/98854 Longitude/Latitude (Degrees+/-): -4.09717/50.77039

Map location: Click here to view map.

Purpose: Waymarker Cross and Boundary Stone.

Size: 4 feet 11 inches (1.50 metres) tall. 1 foot 9 inches (0.54 metres) across the arms. The shaft is both 11 inches (0.28 metres) wide and deep.

Information: This ornate Maltese cross has, unfortunately, had to be fitted with a replacement shaft. The head, arms and upper portion of the shaft are unusual in that they have a concave bevel to all their edges. The arms are rectangular in section, being 11 inches (0.28 metres) high and 8 inches (0.20 metres) in depth. The replacement shaft is octagonal in section.

The join between the head and the replacement shaft is 2 feet 1 inch (0.64 metres) down from the top of the cross. A reinforcing metal bar is set into the cross and shaft on four faces to strengthen the join. The bar on the north face is engraved with 'BBH' together with the sign of a crown. There is also a raised band around the bottom of the cross, just above the join.

According to William Crossing, the cross was one of two which marked the boundary of 'The Chase of Okehampton". The other was at Dunsland, in the parish of Bradford. In this instance, the word "Chase" refers to the hunting ground of the old barons. Records show that in 1532-33, during the reign of Henry VIII, this chase was owned by Henry, Marquis of Exeter. The cross would also have been used to mark the route to the church at Northlew.

In the corner of the road junction, to the east of the cross is a fenced-off area which has been designed as a wild garden. Here is a mixture of wild and garden flowers and plants, together with a few cultivated shrubs. Almost hidden from sight in the centre of the garden is a handily placed wooden bench. This would make for a nice quite and peaceful spot in which to sit and contemplate. However, I was a bit reluctant to explore further as there was no indication to show whether or not access by the public is invited.

Strictly speaking, Northlew is not a Dartmoor parish as it lies outside the moorland boundary. However, due to its link with the Chase of Okehampton, we felt that such an ornate cross should not be excluded from our list.