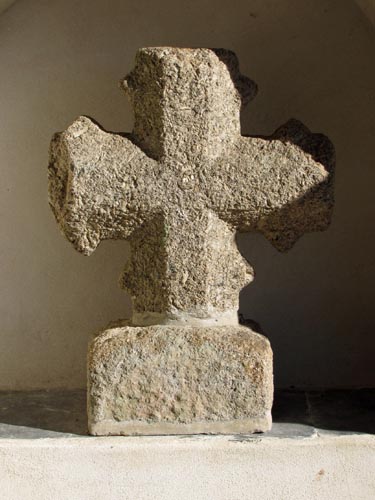 Location: The cross is set up in a recess in the right hand wall of the church porch.

O/S Grid Ref: SX/63833/53216 Longitude/Latitude (Degrees+/-): -3.91581/50.36305

Map location: Click here to view map.

Purpose: This cross was probably once sited somewhere on the church roof.

Size: 2 feet 1 inch (0.64 metres) tall. 2 feet 2˝ inches (0.67 metres) across the arms. The shaft measures 9˝ inches (0.24 metres) wide by 7 inches (0.18 metres) deep.

Information: This is a very good example of the head of a Spurrell's type of cross. It is set into a socket stone, which measures 16 inches (0.41 metres) wide, by 14 inches (0.36 metres) deep and 8˝ inches (0.22 metres) high. The socket stone is rectangular, but with a rounded top. The cross is set back into a semi-circular recess in the wall and the socket stone rests on a base of slate slabs.

Although the cross looks quite old and weather beaten, it is still in very good condition. The shaft, head and arms are all chamfered. The arms, head and shaft below the arms, all have spurs on them similar to those on the Spurrell's Cross, but in much better condition. The left hand arm is slightly damaged towards its end, which means it is now slightly shorter than its right hand partner.
There is another fine cross, also containing spurs on its head, arms and shaft, set onto the gable end of the porch roof. This is a slender cross which is square at the base and chamfered above. Below this cross and attached to the face of the wall is an old and battered looking sun-dial.The guttering to the right of the porch is made of cast iron and shows the date of 1889. The whole of the church appears to be built of small flat slab-type stones and contains a square tower, with a spire above.

Although the village of Ermington is outside of the Dartmoor National Park boundary, it was felt the inclusion of this cross would make a very good comparison for the Spurrell's Cross, of which there is no other known example within the boundaries of the moor. Our thanks go to Les Sutton for pointing this cross out to us.
This ancient church is dedicated to St Peter and is built in the early English style. It has a lofty tower, containing five bells, surmounted by a tall spire, which leans considerably to one side. Records show that in 1623 a meteor, weighing 23 lbs, fell to earth at Strachleigh, in the parish of Ermington, and buried itself a full three feet into the ground.