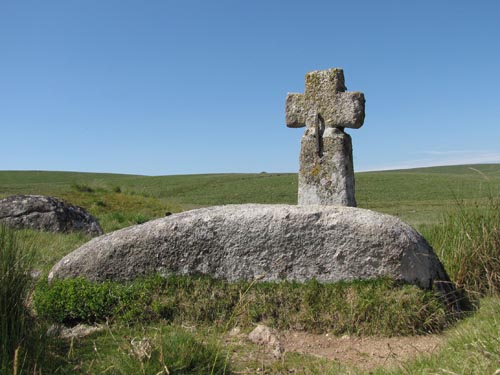 Location: Southern edge of Foxtor Mires, about 300 yards north of the Fox Tor Newtake boundary wall.

Grid Ref: 617 702

Map location: Click here to view map.

Purpose: One of a number of crosses that marks the route of the Monks' Path. This is the ancient name given to the track that links the Buckfast Abbey with those at Tavistock and Buckland. This path takes a more northerly route than the more commonly known Abbots' Way.

Size: 3 feet 1 inches (0.94 metres) high. 1 foot 9 inches (0.53 metres) across the arms. The shaft is 13 inches (0.33 metres) wide and 8˝ inches (0.22 metres) deep.

Information: This cross is named after Lt. Goldsmith R.N. who rediscovered it in 1903, after it had

been lost for many years. Lt. Goldsmith was apparently out on his favourite walk whilst on leave from serving on HMS Imperial. On stopping for lunch, he happened to notice a large rectangular hole cut into the large boulder on which he was sitting. Further investigation amongst the heather revealed the head and then part of the shaft

Lt. Goldsmith informed William Crossing of his find, but Crossing was sceptical, having difficulty in accepting that another cross had come to light so soon after the publication of his detailed book on Dartmoor Crosses. This attitude prompted Lt. Goldsmith to take action and on returning to his ship he enlisted the help of four hefty sailors and the party then returned to the scene, where the two sections of the cross were cemented together and the cross settled back into its socket.
Drawings were made and bearings taken and supplied to William Crossing who finally acknowledged the newly found 'Goldsmith's Cross' in his book Guide to Dartmoor, published in 1909. It is thought that the cross now stands very near to its original position.
The above photographs, which I understand have not previously been published, were kindly supplied to me by Lt. Goldsmith's grandson, Commander Bill Andrew, who was recently responsible for the restoration of the Walkhampton Church House Cross.
Lt. Goldsmith was also responsible for the restoration of one of the crosses on Ter Hill.