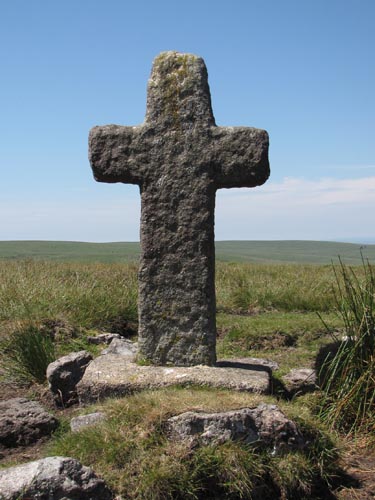 Location: Ter Hill, just outside of the Fox Tor Newtake, on the path to Skir Ford and Down Ridge. About 400 yards from Mount Misery Corner.

Grid Ref: 641 706 Map location: Click here to view map.

Purpose: One of a number of crosses that marks the route of the Monks' Path. This is the ancient name given to the track that links the Buckfast Abbey with those at Tavistock and Buckland. This path takes a more northerly route than the more commonly known Abbots' Way.

Size: 3 feet 11 inches (1.20 metres) tall. 2 feet 3 inches (0.70 metres) across the arms.

Information: The original cross from this site is another of the crosses that has been badly damaged over the years. It was re-erected by the Dartmoor Preservation Society in 1885, when the shaft was found to have been broken in several places. Although a piece of the shaft was missing, the remaining pieces were clamped together, with the result that the cross was substantially shorter than it once was.

Over the years it continued to be used as a rubbing post for cattle and has been knocked over several times. More recently, it was taken away for repair in 1994 by the Dartmoor National Park Authority. It was then thought to be too fragile to be re-erected at this site, where it would be exposed to the elements and cattle rubbing etc. After repair, it was set up in the Jack Wigmore Memorial Garden, at the rear of the High Moorland Centre, in Princetown. Here it will be able to enjoy the required protection for the foreseeable future.
The National Park Authority arranged for a copy of the cross to be made and this now stands on the original site. A nearby rock bears a small metal plate with the inscription:

THE ANCIENT CROSS HERE
WAS REPLACED IN 1994
IN MEMORY OF
TOM GANT
WHO LOVED DARTMOOR
An earlier restoration was made at the beginning of the 20th century by Lt. Goldsmith RN, as shown in the photograph below. Lt. Goldsmith was also responsible for the discovery and restoration of Goldsmith's Cross on the Southern edge of Foxtor mire, which was subsequently named after him.

This photograph, which I understand has not previously been published, was kindly supplied to me by Lt. Goldsmith's grandson, Commander Bill Andrew, who was recently responsible for the restoration of the Walkhampton Church House Cross.