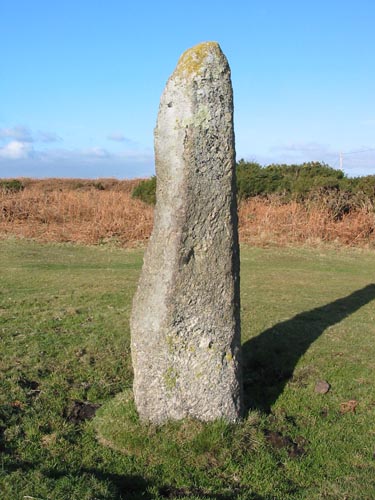 Location: At the side of the road, about 2 miles from Moretonhampstead, on the North Eastern edge of Mardon Down

O/S Grid Ref: SX/77075/87817 Longitude/Latitude (Degrees+/-): -3.74114/50.67699

Map location: Click here to view map.

Purpose: Bronze Age Menhir.

Size: 5 feet 9 inches (1.75 metres) tall. 11 inches (0.28 metres) across the at the top, inceasing to 1 foot 10 inches (0.56 metres) across the bottom.

Information: This stone has been included solely on account of its name, as it probably never was a cross in the accepted sense. There is no evidence that it ever had any arms, a head nor a cross incised upon it. In all probability it was originally erected as a menhir, during the Bronze Age. It does now have an Ordnance Survey Benchmark cut into it.

Legend has it that Maximajor was a local giant who was buried in the nearby Giantís Grave, on the summit of Mardon Down. Not liking his exposed position, on the top of the hill, one night he pushed aside the large cover-stone of the grave and wandered off. However, he did not get very far before becoming petrified and has stood in this position ever since.