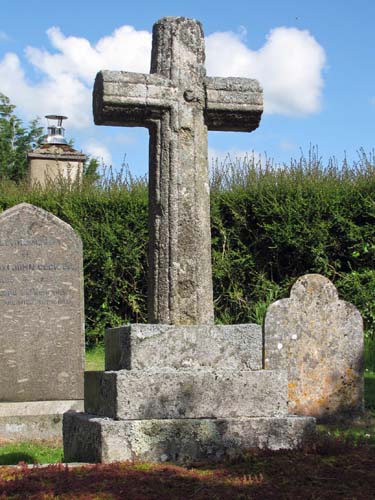 Location: In the Holne Churchyard, to the South of the Church.

O/S Grid Ref: SX/70593/69484 Longitude/Latitude (Degrees+/-): -3.82644/50.51080

Map location: Click here to view map.

Purpose: Churchyard Cross.

Size: 4 feet 3 inches (1.30 metres) tall. 2 feet 3 inches (0.69 metres) across the arms. The shaft is 9 inches (0.23 metres) in depth.

Information: This cross stands at the head of the grave of the Revd. John Gill, Vicar of Holne, who died in 1917, aged 90. He was Vicar of the parish for 59 years, from 1858 to 1917. His wife and son are also buried in the same plot.

The cross, which is octagonal in shape, is set up on a pedestal of three square boulders. The shaft and arms are unusual in that they have a rounded moulding running along the length of each convex angle. The letter 'C' has been inscribed into the centre of the cross head, but it is not known what this letter was intended to represent. It is thought that itís original site was at Play Cross, just to the South of the village. It is also possible that the original socket stone for this cross is the one that is now in use as a pedestal to the Holne War Memorial Cross.

This is another cross that has, at some point, been used as a gatepost. This can be seen by the 3 hanger holes in the shaft, that have now been filled in. The other point to note is that the original arms have been knocked off and have been replaced with skilfully made and attached replacements.

Mr Robert Burnard, in his Dartmoor Pictorial Records, states that it was a local resident, Mrs Bridget Lane, who discovered the cross being used as a gatepost and arranged for it to be set up in its current position. As this was done sometime before her death, in 1870, and which was also before the

death of any of the Gill family, it seems as though it was not originally intended for use as a gravestone. It would appear as though the Revd. Gill arranged the family plot at the foot of the cross upon the death of his son, in 1884.
Standing near this cross is an ancient yew tree which is thought to have been planted soon after the Church was built, around 1300 A.D. Showing the obvious signs of age, the trunk of this tree has now become completely hollow.