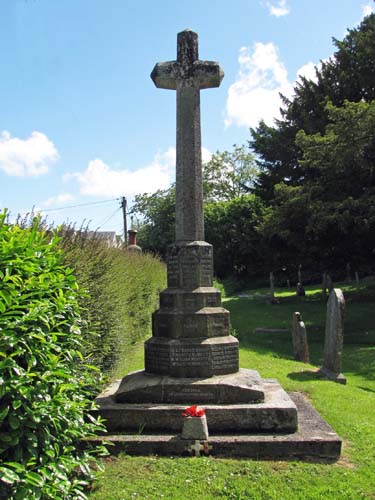 Location: In the Holne Churchyard, near the Churchyard Cross.

O/S Grid Ref: SX/70596/69487 Longitude/Latitude (Degrees+/-): -3.82640/50.51083

Map location: Click here to view map.

Purpose: War Memorial.

Size: 7 feet (2.13 metres) tall. 2 feet (0.61 metres) across the arms.

Information: This is a relatively modern cross, standing on an elaborate pedestal of 7 stages. The cross is octagonal in shape, as are the upper four pedestals.

The inscription reads: "To the glory of God and in honoured memory of the men of Holne who gave their lives in the Great War 1914-1918". In addition, the following is inscribed around the base, with one word to each face: "Their glory shall not be blotted out" Ecclus 4: 4-13.

The 3rd pedestal down was once the socket stone of a cross, which was later hollowed out to form a granite trough. It is possible that this was the original socket stone to the nearby Holne Churchyard Cross.

Mr Masson Phillips reported that the trough was once in use inside the Church as a font and that the author, Charles Kingsley, was baptised at this font. Charles Kingsley's father was, at the time, the Vicar of Holne and Charles was actually born at the Vicarage, in 1819. This was only a temporary posting for Charles' father and the family moved to Clovelly shortly afterwards.

The trough was incorporated into the War memorial when it was first set up shortly after the first World War. This was outside the Churchyard, opposite the Church House Inn. When this site was being developed, during the 1960's, the cross was moved inside the Churchyard for safekeeping.