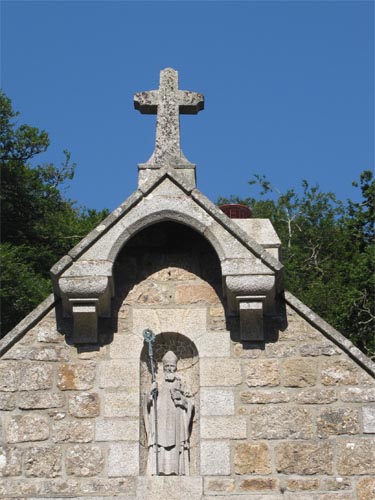 Location: The cross sits on the roof apex of Holystreet Manor, which lies about ¾ mile to the west of the town of Chagford.

O/S Grid Ref: SX/68911/87812 Longitude/Latitude (Degrees+/-): -3.86064/50.66904

Map location: Click here to view map.

Purpose: A roof cross on the Manor Chapel

Size: The cross is not able to be measured.

Information: Holystreet Manor is an impressive Grade II listed building that was originally built in the late 16th or early 17th century. However, by

1913 the house had fallen into a dilapidated state and was bought by Mary Ellis, who was a member of the wealthy Howard de Walden family. In her day, Mary Ellis made a name for herself by racing motorcycles but, by the time she bought this house, she had retired from her racing career and was more interested in hunting wild animals with her dogs. She hired an architect, Turner Powell, who was an expert on Tudor houses, to draw up the plans and oversee the renovation. This required rebuilding most of the exterior walls and the inside was completely redesigned and refurbished. The inside of the house now features granite stone arches and lead-paned windows in a style similar to the nearby Castle Drogo. The house was also redesigned with an unusual form of central heating. This involved extracting water from the nearby River Teign and forcing it through a kilometre of narrow metal piping to extract the heat, in the opposite way to the workings of a refrigerator.

The roof cross sits on the apex over what is now the chapel, dedicated to St. Boniface, and beneath the cross and set back into the wall is a fine stone statue of St. Boniface. The chapel is actually on the first floor of the house to which access is gained by way of an external staircase. The top of another stone cross is just about visible inside the chapel window.
Holystreet used to have its own corn mill until it fell into disrepair but, happily, this building was restored during the latter half of the 20th century. The mill-leat follows the road for some distance and has a real magical appearance when the golden coloured stones in the bed of the leat sparkle in the sunshine. If you look carefully, a number of fish can also be seen darting in and out of the shadows. There was also a private school based at Holystreet in the middle of the 20th century. This was originally named St. Brides, before being re-named Holystreet Manor School. The school had about 40 pupils and catered for both day and boarding pupils.