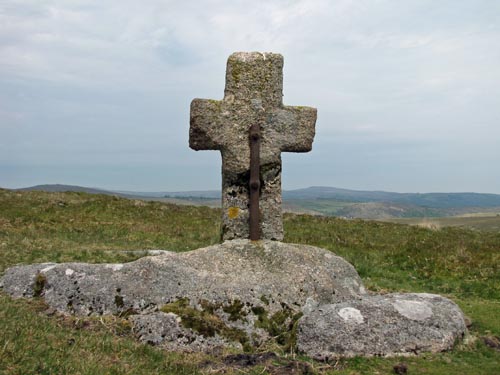 Location: Down Ridge, some way up the hill from Horse Ford, which crosses the O'Brook.

O/S Grid Ref: SX/66009/71366 Longitude/Latitude (Degrees+/-): -3.89173/50.52668

Map location: Click here to view map.

Purpose: One of a number of crosses that marks the route of the Monks' Path. This is the ancient name given to the track that links the Buckfast Abbey with those at Tavistock and Buckland. This path takes a more northerly route than the more commonly known Abbots' Way.

Size: 3 feet 5½ inches (1.05 metres) high. 2 feet 2½ inches (0.67 metres) across the arms. The shaft is 13 inches (0.33 metres) wide and 7½ inches (0.19 metres) deep.

Information: This cross went missing from its original site, which was much nearer to Horse Ford than the current site. It was found by a local labourer in the summer of 1884, partly buried in the turf and heather and was hardly recognisable as a cross. The shaft was repaired, with the aid of an iron clamp on each face, and the cross erected on the spot at which it was found. Unfortunately, not all of the shaft could be found and this has resulted in what we see as the current cross being a lot shorter than the original. The cross is now wedged in between two natural boulders and is held firmly in place with a liberal amount of cement.