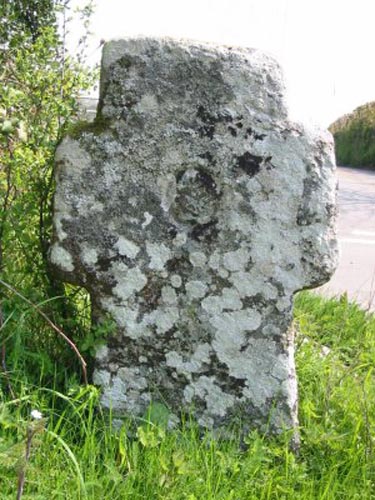 Location: Location: Beside the road at Bovey Cross, about one mile outside North Bovey on the road to Moretonhampstead.

O/S Grid Ref: SX/74318/84753 Longitude/Latitude (Degrees+/-): -3.77910/50.64886

Map location: Click here to view map.

Purpose: Waymarker for the route between North Bovey and Moretonhampstead.

Size: 3 feet 3 inches (1.00 metres) tall. 1 foot 11 inches (0.59 metres) across the arms.

Information: Although this is obviously an ancient cross, it has been turned into a direction post at sometime during the 18th or 19th Centuries. The letters 'O' (Okehampton), 'M' (Moretonhampstead), 'N' (Newton Abbot) and 'B' (North Bovey) have been carved into the two faces and the ends of the arms to mark the directions of the four settlements. This is a similar fate to that which was suffered by the cross on Sourton Down.

An Ordnance Survey benchmark has also been cut into one face of the cross.
Although this cross stands at the crossroads named Bovey Cross, on the Ordnance Survey Map, it is believed to have taken its name from the adjoining field known as the 'Horse Pit'. The cross is sometimes referred to as Hospit Cross but this is, I believe, the phonetic spelling in that 'Horse' is always pronounced as 'Hoss' in the Devonshire dialect.