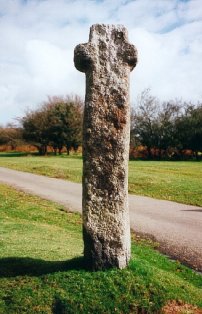 Location: At the road junction on the North West corner of Huckworthy Common.

O/S Grid Ref: SX/530/711 Longitude/Latitude (Degrees+/-): -4.07504/50.52190 (approx.)

Map location: Click here to view map.

Purpose: Waymarker to the Church at Sampford Spiney.

Size: 6 feet 3 inches (1.90 metres) tall. 1 foot 7 inches (0.50 metres) across the arms.

Information: Travellers from Plympton Priory, on route to Tavistock Abbey, would pass this cross if they wished to call at Sampford Spiney. It should also be remembered that the Manor of Sampford Spiney formed part of the lands belonging to Plympton Priory and would therefore need to be visited from time to time by the monks of the Priory.

This is a basic and solid cross, which is still in fairly good condition. The only discernable damage is to the North Eastern face of the arms, which have both had pieces knocked off them. This has the effect of making the very short arms look even shorter from this side. An incised cross is just discernable in the centre of the South Western face, which measures 11½ inches tall by 7 inches across the arms.