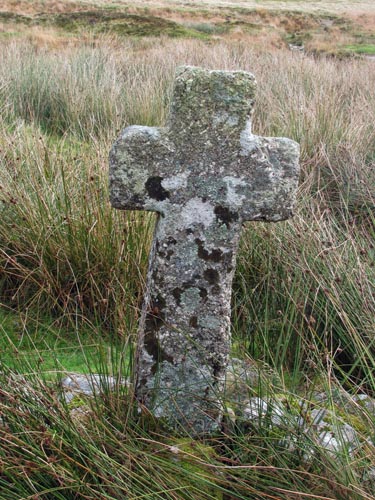 Location: Lower Huntingdon Corner, on the bank of the River Avon at its confluence with the Western Wellabrook.

O/S Grid Ref: SX/66465/66176 Longitude/Latitude (Degrees+/-): -3.88344/50.48014

Map location: Click here to view map.

Purpose: Waymarker for the Abbot's Way and Boundary Stone for the Manor of Brent.

Size: 4 feet 6 inches (1.37 metres) tall. 1 foot 10 inches (0.56 metres) across the arms. The shaft is 9 inches (0.23 metres) wide and 9 inches (0.23 metres) in depth.

Information: It would appear as though this cross was originally erected as a waymarker for the Abbots' Way. However, in the mid 16th Century it was utilised by Sir William Petre, as one of four crosses used to mark the boundary of his manor, Brent, with the parishes of Dean Prior, Harford, and Princetown. The other three crosses were sited at Three Barrows, Western Whittaburrow and Buckland Ford, although the latter is now missing.

Sir William was one of the signatories to the dissolution of the Buckfast Abbey in 1539, when it was valued at the sum of £464 – 11s – 2d. He then promptly went out and bought the land belonging to the former Abbey and incorporated it into his estate.

The route across the moor, from Buckfast Abbey to the Abbeys at Tavistock and Buckland, passes through this spot and is generally known as the Abbots' Way. However, its original name was the Jobbers' Path as it was used by workers in the wool trade who, with their trains of packhorses, used to travel this route to deliver their bales of wool.

Later, the abbeys came to own large flocks of sheep on the moor and the monks, then being involved in the wool trade, also used the same path. As its usage by the monks grew, so its name changed from the Jobbers' Path to the Abbot's Way.

On a visit to the cross in January 2001, I was surprised to discover that a new stone wall has been built between the River Avon and the Western Wallabrook, in an East – West direction, a few yards to the North of the cross. Sadly, this completely obscures the view of the cross from the North and, even from the South, the view of the cross is not clear due to it being disguised against the backdrop of the wall.