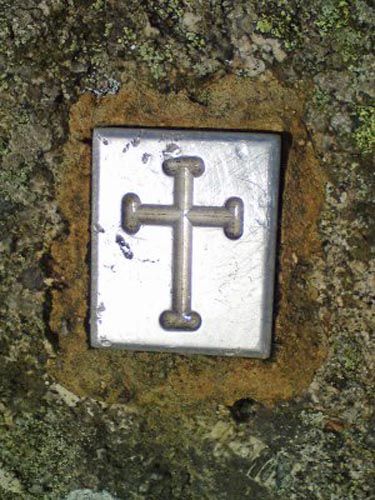 Location:
Mounted on the south face of a large boulder, about 130 yards due west of Huntingdon Warren Farm.
O/S Grid Ref: SX/66422/66804 Longitude/Latitude (Degrees+/-): -3.88427/50.48577
Map location: Click here to view map.
Purpose: Plane crash memorial.
Size: The metal plaque measures 2.75 inches (69mm) tall, 2.25 inches (57mm) wide and 0.5 inches (12.5 mm) deep. The actual cross is 2 inches (50 mm) tall, 1.5 inches (35mm) across the arms and the width of the shaft is 0.25 inches (5 mm).
Information: This neat little cross is incised on a small metal plaque, mounted low down on the right-hand side of the south face of a large boulder.

The cross has been finished off with a small bar at the end of its arms, head and foot. The plaque has, unfortunately, taken a few scratches since being sited on the moor.
The cross was placed on this rock during the summer of 1985 by Brett Sutherland, with the help of his father. The cross was made in school and placed here as a tribute to all those who lost their lives in an aeroplane crash at Huntingdon Warren in October 1945. The story of the plane crash is told in the attached article which appeared in Issue 132 of the Dartmoor News in 2013.
Our thanks to Andy Rowe for bringing this cross to our attention, to 'Dartefacts' Rob for informing us of the reason for the cross being placed here and to 'Dartmoor News' for the copy of the article.