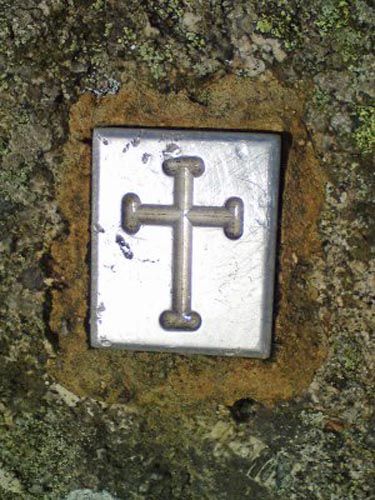 Location:
Mounted on the south face of a large boulder, about 130 yards due west of Huntingdon Warren Farm.
Grid Ref: SX 66422 66804 Map location: Click here to view map.
Purpose: Not known.
Size: The metal plaque measures 2.75 inches (69mm) tall, 2.25 inches (57mm) wide and 0.5 inches (12.5 mm) deep. The actual cross is 2 inches (50 mm) tall, 1.5 inches (35mm) across the arms and the width of the shaft is 0.25 inches (5 mm).
Information: This neat little cross is incised on a small metal plaque, mounted low down on the right-hand side of the south face of a large boulder.

The cross has been finished off with a small bar at the end of its arms, head and foot. The plaque has, unfortunately, taken a few scratches since being sited on the moor.
We are currently unaware of who placed this cross here or why? If anyone has any information they could pass on to us about the cross, we would be grateful to hear from them.
Our thanks to Andy Rowe for bringing this cross to our attention.