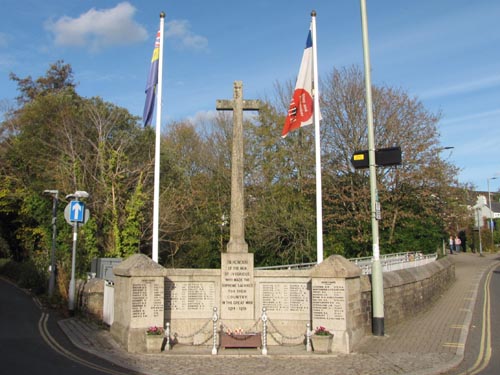 Location: At the north end of the town centre, adjacent to the west parapet of the bridge over the River Erme.

O/S Grid Ref: SX/63600/56240 Longitude/Latitude (Degrees+/-): -3.92018/50.39017

Map location: Click here to view map.

Purpose: The cross serves as the town's memorial to all those from Ivybridge who lost their lives during the two World Wars.

Size: The cross has not yet been measured.

Information: The socket stone of the cross bears the words: IN HONOUR OF THE MEN OF IVYBRIDGE WHO MADE THE SUPREME SACRIFICE FOR THEIR COUNTRY IN THE GREAT WAR 1914 - 1918. The two panels immediately to each side of the cross list the names of the men who fell in the First World War, in alphabetical order. The names of those lost in World War II have been added to the two flanking pillars of the monument.

Ivybridge has been in existence since at least the 13th Century, when it was an important crossing place over the River Erme on the route between Exeter and Plymouth. The name evolved from the fact that, over time, Ivy grew over the one-arched packhorse bridge and made it easily recognisable as the 'Ivy Bridge'. During the 16th Century, a number of mills were built in the area in order to harness the power of the river. Later, during the Industrial Revolution the mills became even more important and a residential development evolved in the area to provide a substantial workforce. It wasn't until 1894 that Ivybridge became a civil parish and in 1977 it was granted 'Town' status. The 'Ivy Bridge' was famously painted by J.M.W. Turner in 1813, shortly before it lost its unique position of being the only bridge over the River Erme, when the new bridge was built, in 1819, adjacent to where the cross is positioned today.

Our thanks go to Chris Taylor for bringing this cross to our attention.