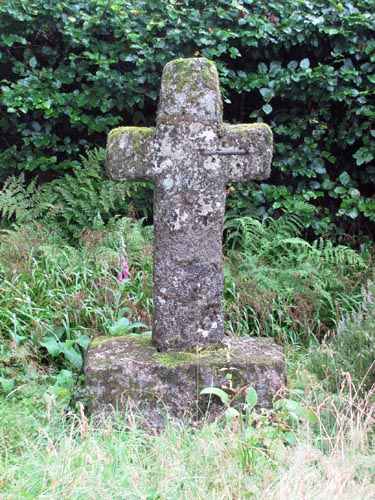 Location: In the top right hand corner of the Jack Wigmore Memorial Garden, at the rear of the High Moorland Centre, Princetown.

O/S Grid Ref: SX/58994/73461 Longitude/Latitude (Degrees+/-): -3.99143/50.54386

Map location: Click here to view map.

Purpose: This was one of a number of crosses that marked the route of the Monks' Path. This is the ancient name given to the track that links the Buckfast Abbey with those at Tavistock and Buckland.

Size: 3 feet 11 inches (1.20 metres) tall. 2 feet 2 inches (0.66 metres) across the arms. The shaft measures 11 inches (0.28 metres) wide by 7 inches (0.18 metres) in depth.
Information: The Jack Wigmore Memorial Garden is open to the public, with the entrance gate being at the back of the High Moorland Visitor Centre, Princetown, on the B3212 road to Yelverton. The cross is set up in the opposite corner of the garden from the entrance gate. The garden sets out to recreate a secluded and peaceful corner of typical Dartmoor moorland in the centre of the town. The mossy granite stones and ground cover plants, lying in the shade of the towering trees reminds me of a few magical corners hidden around the moor.
The cross is the original Ter Hill SW cross, which had become badly damaged. It had been thrown down and re-erected several times, after being used as a rubbing post by the cattle on the open moor. In 1994, after being thrown down once again, it was decided by the Dartmoor National Park Authority that it had become too fragile to be set up in the same position again. A new cross was

made to the same style and dimensions as the original and this was set up in place as the Ter Hill SW Cross, together with a small plaque to explain the reason. The original cross was then repaired and set up in its current position, where it will be safe from the dangers to which it was formerly exposed.
This ancient cross is roughly hewn and is square in section. It sits in a large square socket stone, which measures 2 feet 8 inches (0.81 metres) by 1 foot 11 inches (0.58 metres) and 12 inches (0.30 metres) high. The right hand arm has been knocked off and is now cemented back into place, reinforced by an iron clamp front and back. The head shows evidence of being cemented back into place and the shaft has been joined together in at least two places.