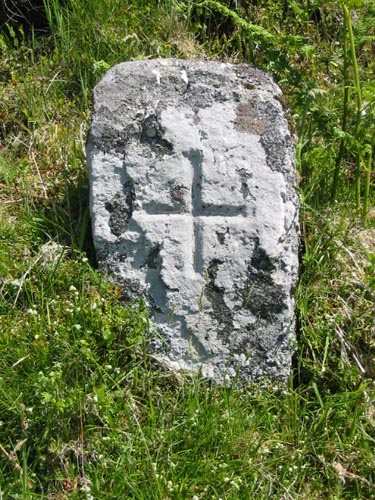 Location: At the North Eastern end of Keble Martin Church. The church is on the Eastern side of the Western Wellabrook and just below the Huntingdon Warren Farm enclosures.
O/S Grid Ref: SX/66632/66609 Longitude/Latitude (Degrees+/-): -3.88125/50.48407
Map location: Click here to view map.
Purpose: Incised cross within the chapel
Size: The incised cross is 6 inches (0.15 metres) tall and 5 inches (0.13 metres) across the arms. The Chi-Rho symbol is 6 inches (0.15 metres) high and 7 inches (0.18 metres) across the diagonal.
Information: In 1904 the Rev. Keble Martin, together with his two brothers (Arthur and Jack), a group of cousins and friends, held the first of what was to become

a number of regular summer camps near this spot. During the summer of 1909, they constructed this chapel, in a little hollow near the brook, by reinforcing one end and part of the sides with a dry-stone wall.
It was Keble's brother, Arthur, who engraved the cross on a white stone at the higher end of the chapel. He also engraved the Chi-Rho symbol (resembling an 'X' superimposed over a 'P') on another stone lying flat on the ground within the chapel.
Although not a recognised church, a child from the Huntingdon Warren Farm, Vera Millicent Pearce, was baptised here by Jack Martin. Both Keble and Jack had by this time made their commitment to the church. More recently, a couple of keen

Dartmoor Letterboxers were married at the chapel in May 1990. They used to put out new letterboxes in the surrounding area in celebration of their wedding anniversaries.
The Rev. Keble Martin went on to become a celebrated botanist and artist and published a book entitled: The Concise British Flora in Colour.