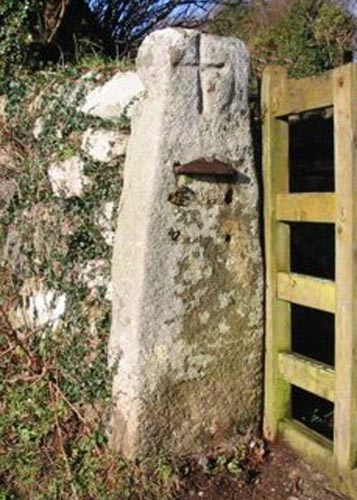 Location: At the entrance to the lane that runs up to Kingshead Farm from the Widecombe to Natsworthy road, about 1/3rd of a mile from Widecombe.

O/S Grid Ref: SX/71645/77075 Longitude/Latitude (Degrees+/-): -3.81423/50.57926

Map location: Click here to view map.

Purpose: This substantial granite pillar is in current use as a gatepost, at the fastening end of the gate.

Size: 4 feet 8 inches (1.42 metres) tall. 11 inches (0.28 metres) wide at the top, 1 foot 6 inches (0.46 metres) across at the bottom. The inscribed cross is 9 inches (0.23 metres) high and 7 inches (0.18 metres) across the arms

Information: This granite pillar never was a cross in the true sense, but probably started out as a boundary stone, before being removed to its current position. It now has a cross incised into its face near the top of the stone, the reason for which we are unable to discover.