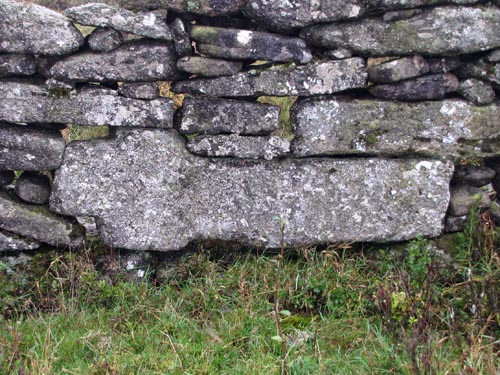 Location: Go through gate in the wall to the north of Laughter Tor, turn right and the cross is built into the wall, 15 paces from the gate.

O/S Grid Ref: SX/65420/75793 Longitude/Latitude (Degrees+/-): -3.90164/50.56634

Map location: Click here to view map.

Purpose: Not known.

Size: 5 feet 1 inch (1.55 metres) tall and 1 foot 7Ĺ inches (0.50 metres) across the arms. The shaft is 13Ĺ inches (0.34 metres) wide by 13 inches (0.33 metres) deep.

Information: This cross is lying horizontally in the dry-stone wall with its arms, such as they are, set vertically. However, the question must be asked: Was this ever a cross?

Certainly, from the north side of the wall its appearance and dimensions are that of a genuine cross, albeit with its arms having been knocked off quite close to the shaft. However, from the other side of the wall, the stone is not at all recognisable as a cross. So, was this a cross in the making that was abandoned, perhaps when the arms broke off? Or is it just a natural stone that from one side happens to resemble a cross?

Unfortunately, at the time of my visit (March 2002) it was a cold day, with gale-force winds that brought continual rain and sleet, and Iím afraid that I wasnít inclined to hang around for too long looking at it. I think I need to make another visit, in better weather, to see if any of the above questions can be answered.