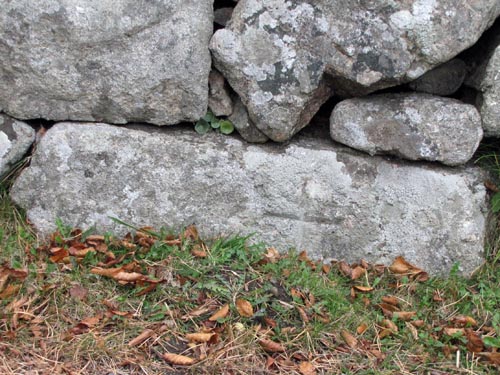 Location: Incised into the base stone of the roadside wall at Lake Steep, just below the bend in the road, which is approx 100 metres downhill from the junction at Parklandhead Cross.

O/S Grid Ref: SX/70510/72536 Longitude/Latitude (Degrees+/-): -3.82867/50.53821

Map location: Click here to view map.

Purpose: Memorial.

Size: The inscribed cross is 6 inches (0.15 metres) high by 6 inches (0.15 metres) wide.

Information: This cross was incised on a stone in the roadside wall as a memorial to a local Doctor, then living at Beacon Cottage beside the Tavistock Inn, who collapsed and died at this spot whilst out walking, sometime at the turn of the 20th century.

Just down the road from Lake Steep is the little moorland village of Poundsgate, at the heart of which is the 17th century Tavistock Inn. Internal features of the building include a semi-circular staircase, in which each step is made of a single block of stone and a lantern niche set into one of its walls. Legend has it that the wooden beams were removed from the bar ceiling when the locals complained of worm-dust falling into their beer.
The other legend attached to the inn is that the Devil called by for a drink on his way to Widecombe on 21st October 1638. This was the day that the Widecombe Church was hit by a terrific thunderstorm, which destroyed part of the building, killing four of the congregation and injuring sixty-two others. It is alleged that the Devil marched into the bar of the Tavistock Inn and ordered a drink, paying for it by coins, which immediately turned to dry leaves. The drink hissed as it passed down his throat and his mug left a black burn mark when it was replaced on the counter. Eventually he left on his coal-black horse to ride over to Widecombe, where he conjured up the storm which did so much damage to the 'Cathedral of the Moor'.