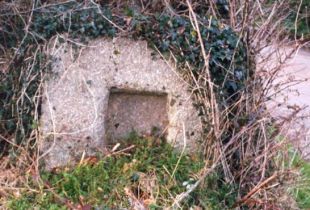 Location: Set into the hedge at the left hand side of the entrance lane to Leigh Farm off New Road, which runs between Roborough and Bickleigh.

O/S Grid Ref: SX/505/625 Longitude/Latitude (Degrees+/-): -4.10598/50.44377 (approx.)

Map location: Click here to view map.

Purpose: Socket Stone for a waymarker or boundary cross.

Size: 2 feet 9 inches (0.84 metres) across. 2 feet 4 inches (0.71 metres) in height, visible above ground level. The socket stone is 24 inches (0.61 metres) deep. The socket measures 11˝ inches (0.29 metres) square and is 6 inches (0.15 metres) deep.

Information: The socket stone is set into the roadside hedge, in a vertical position. During the summer the hedge can become very overgrown making it rather difficult to see the stone. Luckily, at the time of my visit, in October, the hedge had just been trimmed leaving me with a good view of the stone. The socket, which is centrally placed, does not go all the way through the stone. No sign of the actual cross belonging to this socket stone has ever come to light.

William Crossing recorded a socket stone in this area as being on the left hand side of the road, coming from Bickleigh, and that the socket goes all the way through the stone. He also suggested that this might be the socket for the Copriscrosse (Copris Cross), which is known to have once stood in this vicinity. This was one of several that marked the bounds of the lands belonging to Buckland Abbey. Two of the others, still remaining today, are Siward's Cross and Yennadon Cross, of which our web-page on the latter contains further information.

The present socket stone is on the opposite side of the road to that described by Crossing and socket does not go right through the stone. Although the stone may have been moved over the years, the fact that the socket does not go all the way through the present stone means that it must be a different one to that described by Crossing.

Harry Starkey also refers to this socket stone and places it in its current position. Further information was provided by E.N. Masson Phillips, who recorded that the current site of the stone accords with the position marked on a 16th century map for the Brokencrosse. He goes on to suggest that this might be a replacement for the earlier, 13th century, Copriscrosse. It should also be remembered that the cross would have well pre-dated the current road and that, when erected, the cross would have occupied a prominent position in the centre of Roborough Down.